Mass communication shines in the new glimmer of technological advancement. Publishing online makes news not only more accessible to the readers but also helped the publishers to earn more than before. Whether it's a small online news portal on pets and plants or a full-scale daily, an efficient and eye-catching website is required. The old faithful WordPress is here to the rescue! To design your website based on your specific needs, software houses provide an array of WordPress-based themes to choose from. Themes such as Newspaper, Goodlife, Soledad, MagPlus, and PenNews are at the top.
To evaluate any WordPress themes for news websites, we look for the following characteristics in them:
Cross-browser compatibility and cross-device compatibility
Accelerated mobile pages
Adaptability with niche
Plug-in compatibility (supports multilingual plug-ins like WPML, supports customization with WPBakery Page Builder)
Social Media Sharing Framework
Optimized for Search Engine
Importable pre-designed demo
Monetization compatibility (WooCommerce/Google AdSense)
Support drag-and-drop page builder that saves time from extra coding.
Customizable features should include: slideshow, carousel, gallery, header and footer variations, the article layout, slider variations, fonts, bookmarking, color-changing templates, widgets
Integration with industry-standard tools (like MailChimp, Feedburner, and Buddypress)
Self-updating URL to link articles
Google Page Speed score
News9paper
If you are trying to design your website with the sole purpose of publishing news, this WordPress theme is exactly what you need. If the very name of this theme seems unconvincing, you should take a peak beneath its skin as well! Newspaper comes with one dozen installable pre-designed demos created with the TagDiv Cloud Library.
It is compatible with almost each and every browser we know. Moreover, it is cross-device compatible. It also provides you with the additional support of Accelerated Mobile Pages (AMP) which is very helpful for running your website smoothly on mobile devices. Since most readers nowadays prefer news on the go, cross-device compatibility is a big issue to be addressed. News9paper launched its 9.8 version in the market on 30th July 2019. The 59$ package comes along with 6 months of support from TagDiv.
The theme supports the WPBakery Page Builder plug-in for customization and WooCommerce for monetization.
This theme is optimized for SEO.
Compatible with the biggest social networking platform Facebook.
Unlike Portus, the News9paper theme does not provide you with the vivid Parallax effect. It does not have the off-canvas mobile menu.
MagPlus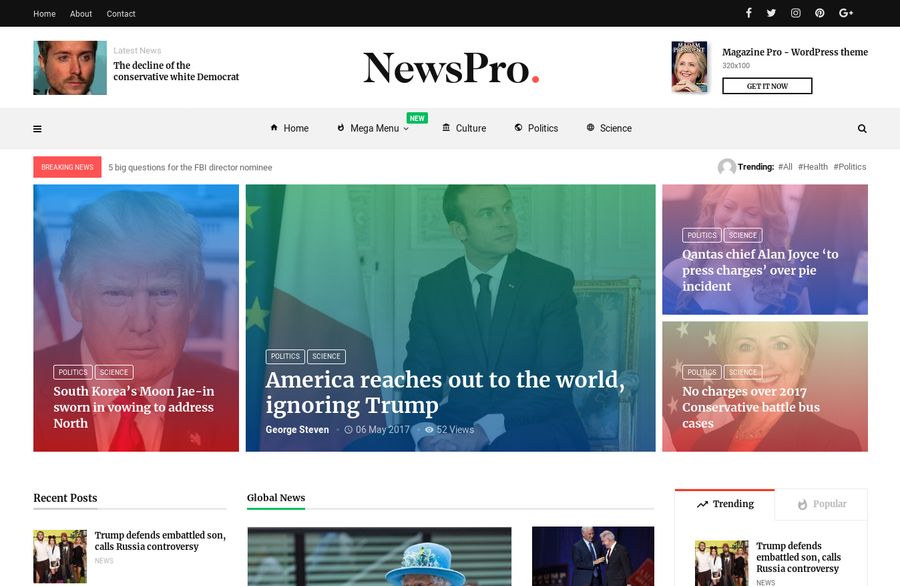 If you put all your efforts concentrated only on content, you would only be able to draw a handful of viewers to your website. Since blogging is rapidly gaining a name for itself, the competition for exposure is harder than ever. Thorough knowledge of the subtleties could give you an edge in this respect. A faster loading website, SEO friendliness, cross-browser compatibility, and multi-language translation; factors like these must be addressed. MagPlus is one such theme that checks all of these features and more! The 59$ package comes with 6 months of support from ThemeBubble. Let's take a look at some of MagPlus' best features:
40+ demos to choose from
160 elements to make your perfect layout
Supports both WPBakery & Elementor
Supports Multi-language translation plug-ins, WPML & RTL texts (such as: Arabic & Hebrew)
4+ columns, 20+ sliders, 30+ shortcodes.
Video supported theme
Gutenberg optimized
Auto-update
Supports Google AdSense, Google AMP, WooCommerce, WordPress 5.0
Soledad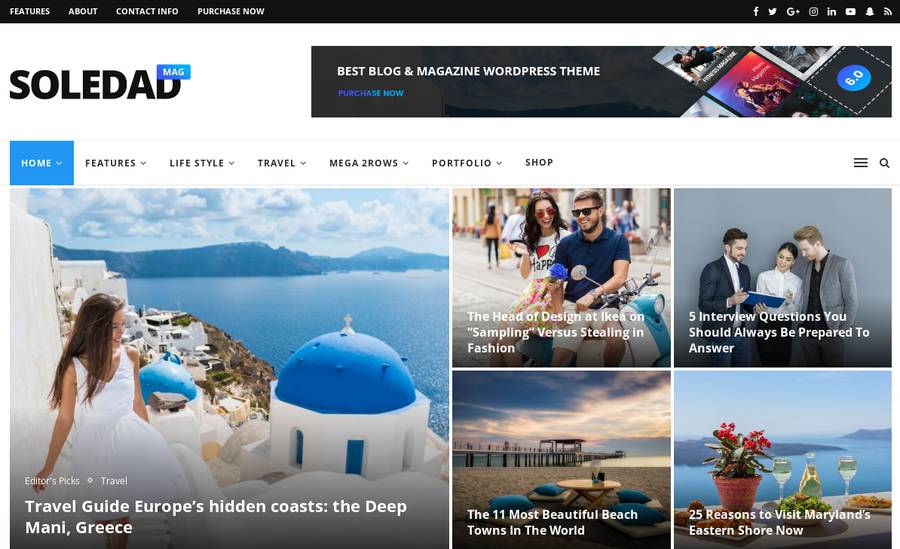 Soledad is one ideal theme with a long list of compatibility. To begin with, we have compatibility across all devices, operating systems, and 7 different browsers. Then there is AMP (accelerated mobile pages), WooCommerce, BuddyPress, MailChimp, WPBakery, SEO optimization, and Gutenberg optimization. Finally, for cherries on top, we have WPML, POLYLANG for multilingual support. It even supports the European Union (EU) GDPR policy!
Most leading WordPress themes are easy to use because they do not require prior coding knowledge. Soledad is one such theme. The prominent features of Soledad include:
1000+ sliders and blog magazine layout combo
11 widgets
6 personalized sidebars
3 columns
16/7 helpline
PENCI plugin
flexible images and responsive video
High resolution
This newspaper suitable website first appeared in the market on 15th November 2015. Now, its latest version 7.0.3 costs 59$.
SmartMag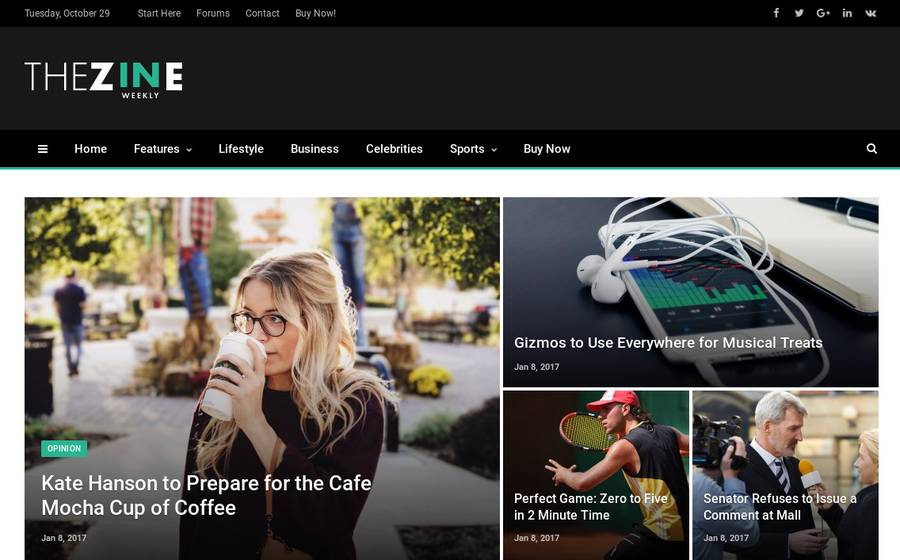 SmartMag offers easy accessibility for the readers and also offers brilliant back-end support for the admins. This responsive theme has a retina-ready display feature.
First appeared on 2nd February 2014; SmartMag currently has their 3.2.0 available in the market for $52(with 23/7support from ThemeSphere) since 28th May 2018. Seems quite a bit behind other frequently updating themes. SmartMag has almost everything you need in its arsenal:
Classic and off-canvas mobile menu
Light and Dark skins for adding extra flare to your website's appearance
Compatible with 9 different browsers.
Plug-ins include: bbPress, SliderRevolution, WPML, RTL, HTML5, CSS3, Google AdSense, WooCommerce
Multiple page content slideshows to generate more profit from ad views
11 different page builder widgets, 6 block styles, 3 individual listing styles, multi-post formats, 2 columns, unlimited color, and typography customization
Newsmag
Newsmag is the most appraised news theme on Themeforest. The small-width content may appear less appealing but it is backed up twofold by its high performance, retina-ready layouts, unique demos, and quality designs. TagDiv really worked hard on this theme. Newmag is optimized for speed and SEO. As a dedicated theme for newspaper websites, NewsMag was still missing out on WooCommerce. Its 4.9.1 version addressed this matter as well. Up until now, Newsmag made 14k+ sales. Currently, it is $49. Have a look at its features:
2 columns, 10 header styles, 10 footer styles, 4 top bar templates, customizable typography
page builder elements include 7 big grids, 16 blocks, and user-defined ad zones in the panel.
Widgets: Instagram, Weather, Exchange
YouTube video support, GIF image support
AMP & Cross-browser compatible.
The Issue
First appearing on 12th March 2019; The Issue has covered every major category like travel, food, lifestyle, and fashion in one convenient newspaper website theme. Customize your site by switching off those default settings and be as creative as you like.
8000+ homepages
User-defined AJAX search
WPML, Elementor, MailChimp, WooCommerce, WPBakery, BuddyPress compatible
Gutenberg optimized
6 months of support from FuelTheme with its $59 package.
Compass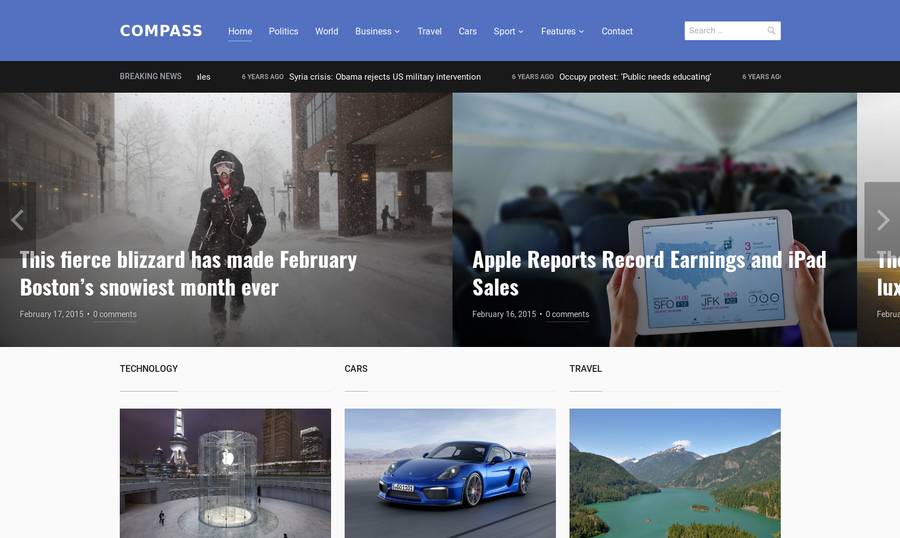 Sail the virtual ocean of news publishing with the help of Compass and you will always find a new shore to explore! $69 may seem a bit pricy but 75k+ sales are no joke at all!
This minimal magazine-style template is suitable for both designing and constructing newspapers and magazines alike. Compass harnesses its commendable credibility from the Jetpack plugin. Other features include:
WPZOOM widgets for customizable homepage building
Responsive and Retina Ready display adapts to any screen resolutions.
Multi-language support tutorials & WPML to explore overseas markets.
Import themes demo pages with a single click and validate your needs.
The $99 package includes 43 WordPress themes and 1 year of support
NewStar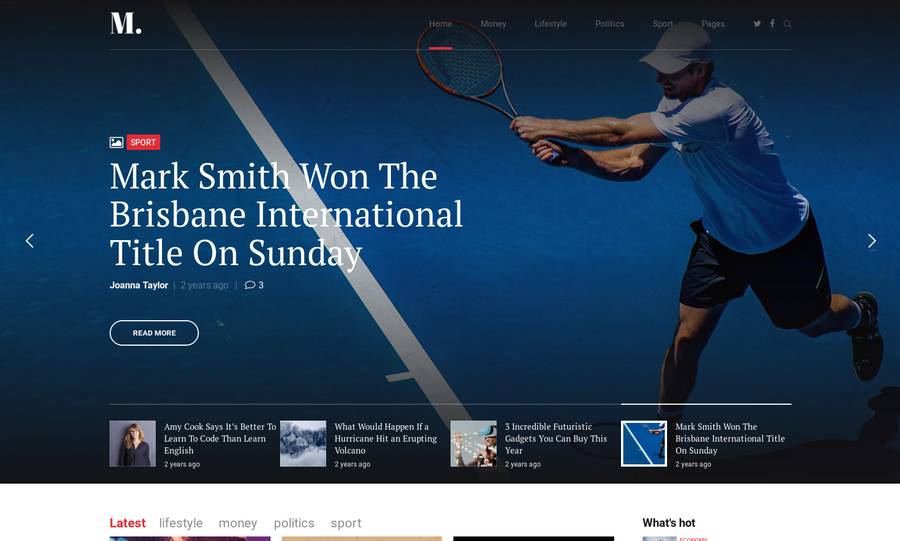 This theme syncs well with news content writers who probably skipped coding lessons. NewStar is still running in its early days. Yet it's showing signs of improvement with its recent updates. Flexible homepage contents, quote calculator, sidebar options on both left and right sides, RTL, WMPL, AMP; appears quite promising already! Then there are features like full-width and boxed blog layout, portfolio tiles layout, sticky header, and customizable icon sets.
Mission News
If you're looking to create an online news portal then Mission News may be just the theme for you. This fully responsive newspaper theme will make your content look amazing and perform effectively across all mobile devices.
Mission News includes a great number of customization options including nine different layouts that can be applied to individual pages, social media icons, a universal search bar, and much more. The large header section provides space for a logo or site title, tagline, and two menus. It also includes the current day's date which is a nice touch to make your site feel fresh and alive.
Mission News is fully translatable, so it can be used with any language, and it also includes support for right-to-left languages. Overall, it's a very adaptable WordPress theme and can be used to create any type of news website you'd like.
TheGem
The Gem earned its reputation as the fastest WordPress newspaper theme. Launch your project right away with TheGem. Ready-made demos will ease off those anxious hours of coding. Both niche-oriented and general news can be managed flawlessly with TheGem.
more than 400 all-purpose templates.
compatible with Facebook, Visual Composer, WPBakery, WPML, WooCommerce, Gutenberg
4+ columns, 250+ styles, RTL
Reflection of modern UI/UX designs; slick, crisp, unique
PenNews
PenNews is an impeccable news & magazine website theme. If you are looking for generating a significant amount of dough from site traffic PenNews is your savior. It gives you unlimited ad spaces, in-feed ads, and much more.
RTL language ready, WMPL, 4+ well documented and responsive columns.
Faster loading on AMP and Facebook Instant Article
Compatible with SEO plugins, supports Articles, Posts, Recipes, and Breadcrumbs and makes sure your website stays ahead.
Customizable ad space, and in-feed ads support for every layout.
Pinterest, Instagram, and Latest Tweets for social media expansion.
28+ slider styles include Master and Layer Sliders, Slider Revolution, Ninja Popups,
Compatible with European Union GDPR policy
40+ content blocks, 10+ big grids, 3 different review styles, AJAX live search
Newsmag Pro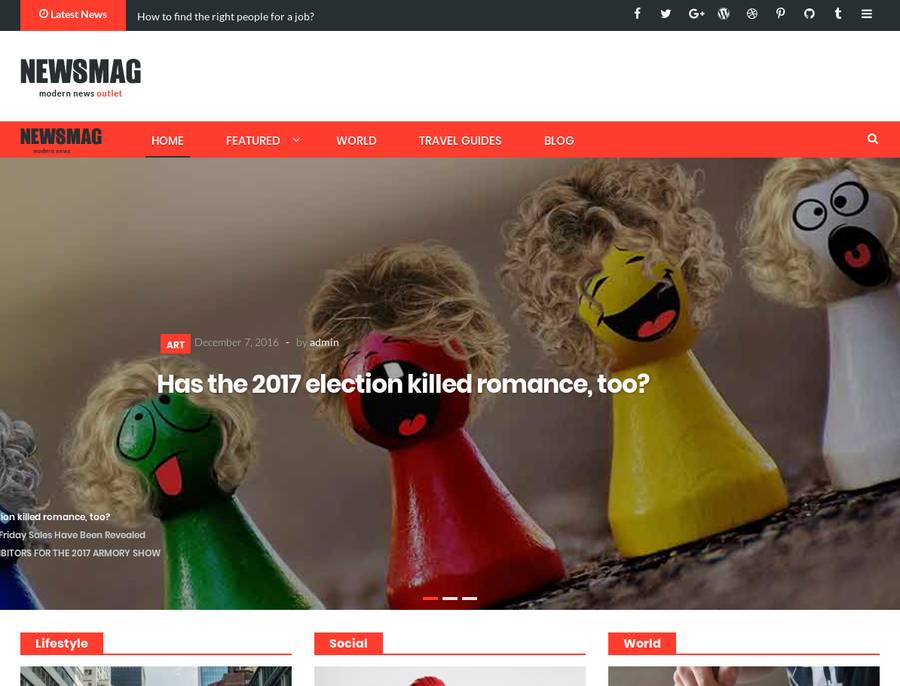 Looking for a multipurpose magazine website theme? Smooth animations, AJAX-powered filtered categories, customizable colors, fonts, logos, brilliant support from industry tools, a wide range of plugins and widgets. An ideal magazine website in a nutshell. Yes, Newsmag Pro offers it all. Notable features:
Back-to-the-top button, fixed sticky header
real-time preview of edits
video, audio, quotation posts, images, and gallery; covers all the necessary formats
built-in social share buttons; third-party plugins are not required anymore
$59 Newsmag Pro outplayed its predecessor Newsmag.
Infra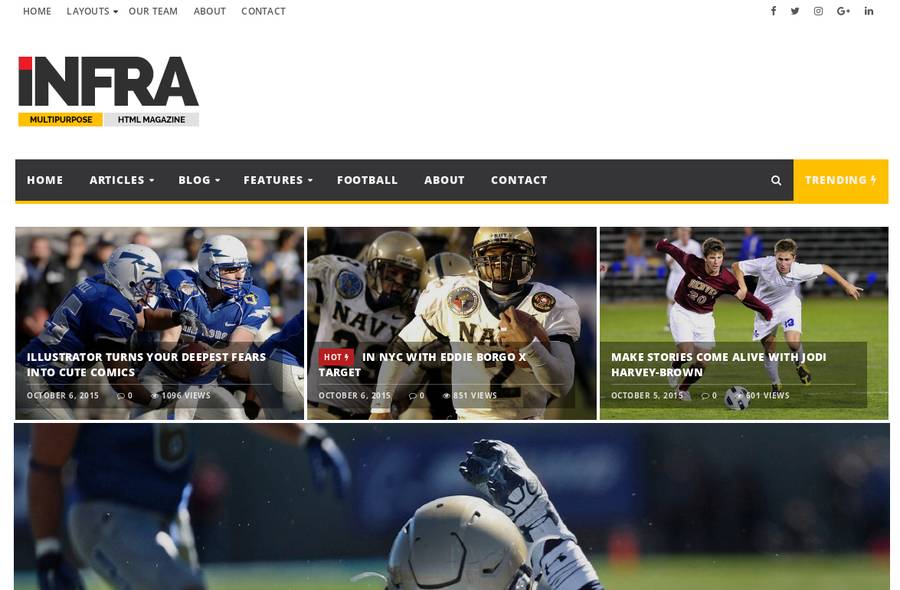 INFRA is a newspaper and magazine theme. This theme offers some amazing features. Drag & Drop solution to Mega Menu saves the extra hours of coding. Custom Post Sidebars and Sticky Sidebars for individual posts, drop-down secondary menus, and creative layouts; all that is required for an innovative newspaper website. INFRA servers it all! Details:
Up to WordPress 5.0.x, Bootstrap 3.x, Visual Composer 5.1.x. compatible,
Seven featured image styles
500+ retina icons
Gutenberg optimized
$49 package with 6 months of support from orange themes.
Onfleek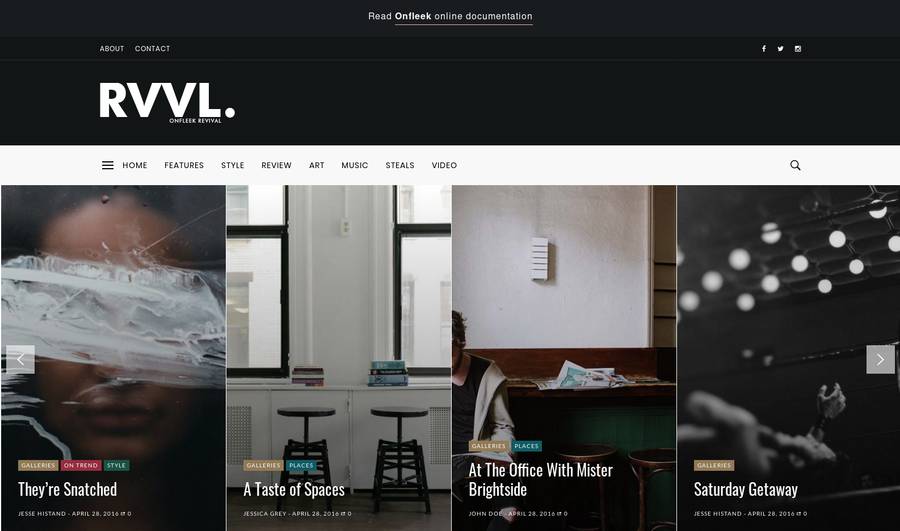 Futuristic and tech-savvy, are the most appropriate words to give Onfleek. This is a very responsive WordPress AMP magazine website theme. Onfleek stretched the extra mile and collected invaluable statistics from young users to solve issues like data consumption rate, page load speed, and search engine ranks. Based on those results Onfleek implied necessary actions and created a visually stunning, easily accessible, and efficient theme with the Parallax effect. Most trending celebrity news, gossip, AMP enhanced gallery options… Showbiz world! Here we go! Notable features:
Multiple Areas for Advertisement (before you may also like, lightbox area, on header area, before page/post titles)
3 columns, sticky sidebars, 8 header styles
clean coded and well documented
1 click Demo importation
custom widgets and Metabox.
Paperio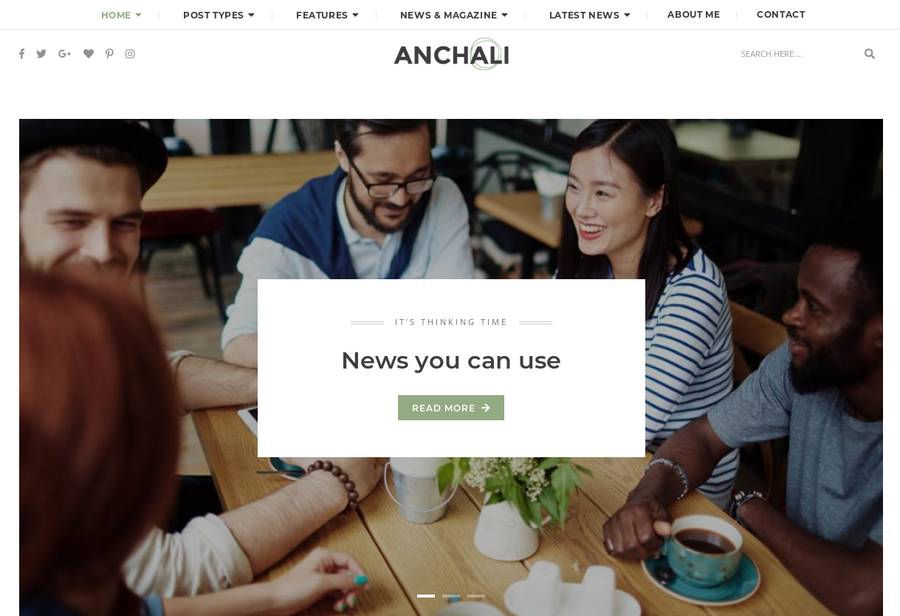 With 7 pre-built demos, Paperio is a convenient blog WordPress theme. Both WPML and POT files are there to break the language barrier. Paperio is a Bootstrap-based creation. 8 customizable widgets including Instagram and Twitter cover your social media footprint. Here's a list of special features:
7 homepage blog listing styles
2 slider styles, breadcrumb navigation, 8 custom widgets, 5 header styles, 2 footer styles, social media icon inclusion in header/footer
Child theme included for further customization.
Interactive
This quite simple-looking theme allows web page developers to shine in their own craft. Interactive carves out the technicalities and lets your sculpture-like website speak for itself. Its three-column layout is neither too much nor too little to handle. Swift navigational experience is ensured with its off-canvas mobile menu. Let the would be known to your creativity. Specifics:
Stunning typography
Feedburner URL option
AJAX Quick Search
RTL support
Lazy load image support for mobile devices
both customizable background images and 60 pre-designed image
Gillion
Gillion is one of the most suitable themes for magazine publishing and writing. Gillion provides 50+ modular elements, pre-built header styles, social widgets, 4+ columns, a responsive layout with unlimited colors, and 15+ pre-demos.
WPBakery is Gillion's choice as the page builder and WooCommerece is there for monetization purposes. MailChimp is also integrated with Gillion. That means, you can send targeted emails and notify your subscribers about your latest campaigns. Gillion is optimized for mobile devices as well.
Gillion is not Gutenberg optimized, which is a bit of a downer. Gillion is compatible with only half a dozen browsers (IE11, Firefox, Safari, Opera, Chrome, and Edge). The one-click installation package costs 55$ only. Gillion launched its 3.4.4 version in the market on 11th October 2019.
WordX
Especially recommended for online magazines, editorial blogs, and alike. Highly customizable, visually attractive, reaches overseas readers and follows modern and must-have cross-device compatibility. Other features include:
Stunning carousels
Clean & clear codes and shortcodes
Compatible with WP Mega Menu, WP Review Pro, WP Subscribe Pro
HD video tutorial support
Child theme support, RTL and Translation Ready
NewsTimes
A gossip theme that is cross-device compatible and supports video formats. This SEO-friendly theme comes with a review system that builds a good relationship between viewers and designers. Convincing Dummy data and demo version allow you to think it through before you fully commit to it. Check out the details:
SEO, Widget & Multi-language ready
AJAX quick search option
FeedBurner RSS supported
Breadcrumbs in single posts
Custom Logo and Favicons, custom header backgrounds
$59 package with 1 year's worth of support & upgrade
The Fox
This is another notable magazine website theme. A perfect theme that respects thorough planning and execution. No coding knowledge is required with The Fox's simplified backed handling. WordPress brings its Live Customizer into play in this theme. That means more than a hundred configurable elements and options can be upgraded and change your magazine inside out. Let's see what else is there:
SEO & Gutenberg optimized
4+ columns
Share icons include Facebook, WhatsApp, Twitter, Pinterest, Reddit, Linkedin
Highly customizable typography
Domino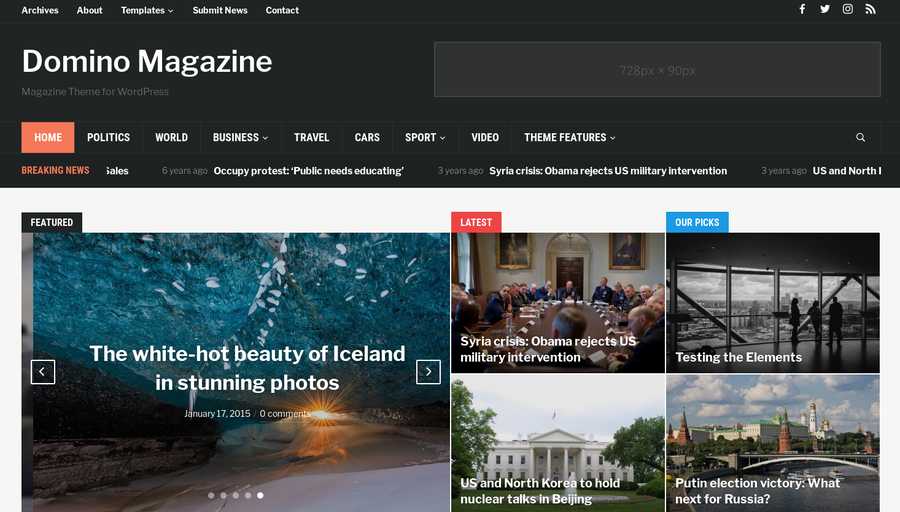 Domino is a newspaper and magazine theme. Visually appealing, and technically well constructed. A golden ticket to join the big leagues. As far as customizing tools are concerned, Dynamic Homepage Builder and Theme Options Panel added some modern touch of technology to the typical newspaper website.
$59 package with 1-year support and updates
Wide range of colors & fonts to choose from
Theme options panel for further customization
1-click demo installation
Best
A minimal style theme that doesn't exaggerate itself. While fast loading holds the readers' attention firmly with your website, its predefined advertisement features boost your revenue. Best is optimized for search engines, which means that it draws viewers to your website more frequently. For any difficulties regarding the installation procedure; Best provides some narrated demo videos. Other features include:
Multilingual support
Responsive layout
Widget ready
SEO optimized
Shortcodes included
Saxon
WordPress newspaper themes such as Saxon have made life much easier for web page developers. Even if your coding knowledge is next to nothing Saxon assures full professional cooperation. Built your website according to the given demos like fashion, food, travel, gaming, or add your own creativity. Saxon is supportive and efficient. Other features include:
Compatible with WPML, WooCommerce, Bootstrap 3, MailChimp, Newsletter
JetPack tiled gallery support
4+ columns, 3 menu positions, 11 blog layouts, 27 homepage blocks, 10 color skins
NewsPaper
Not to be confused with another WordPress newspaper theme named Newspaper. This one is more appealing. It is profitable for infotainment sites. Enjoy the latest edition of plugins and customize your website easily. Features include:
Parallax effect for 60 pre-defined images and custom images
Lazy Load option, Feedburner URL option, Multi-language translation option
AJAX quick search
4 individual pagination options to choose from.
BuzzStone
A WordPress newspaper and magazine theme that is foolproof and business boomer. If you have the ability to continuously surprise your viewers with exciting new content, BuzzStone would ensure that viewers keep on coming back for more. With stunning visuals and a smooth walk-through for viewers, BuzzStone delivers its goods efficiently. Let's see what else is there:
4+ columns, 20+ post animations,
AJAX quick search integrated
Slider Revolution & Swiper Slider plugins
Excellent color variations and typography
MagXP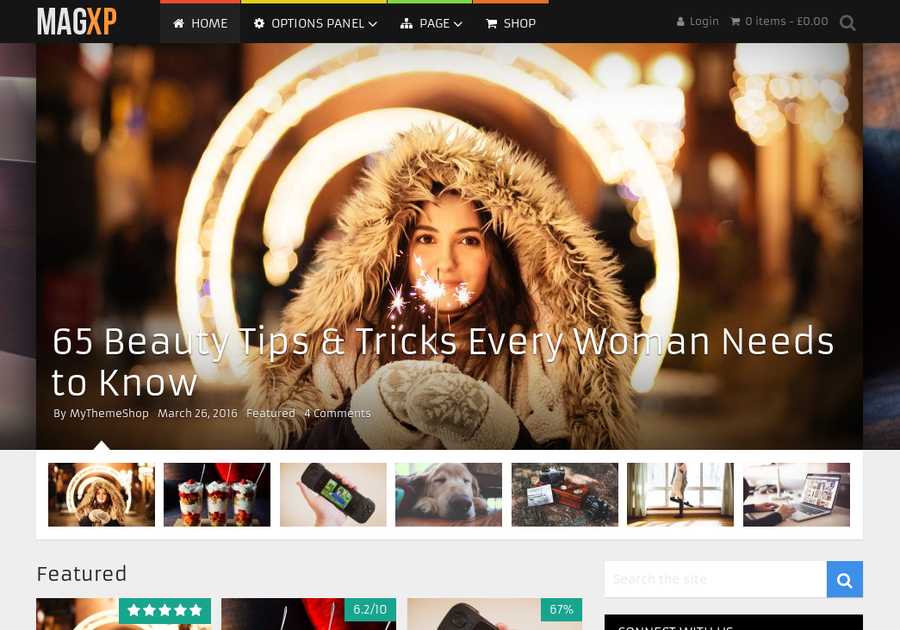 Here comes the cheapest WordPress theme of this lot for only $35! Although it's cheap, it doesn't miss out on quality. MagXP is user-friendly and also has an aesthetic appearance. Well prepared for SEO, HTML5, CSS3. The developers also included a personal review system with it. Special features:
Stunning 3D Parallax effect
Lazy Load & Async options
13 custom widgets in a space of 3 or 4-foot widget columns.
Unlimited sidebars
Jannah
This theme is quite versatile. It adequately fulfills the needs of any newspaper, magazine, or news WordPress site. Jannah is the cheapest theme in this long list of themes so far. The $49 package put exquisite attention to detail. From customizable user-friendly navigation to an estimated reading time viewer, Jannah serves according to your aesthetic needs.
Let's take a look at some of its other features:
Pre-defined, article inline spaces for ads.
Right to Left language friendly. Multi-language translation supported.
40+ block layouts, 45+ background patterns, 15+ slider layouts, fully customizable color variations.
Lazy load support for images. Gif image is supported.
Fully integrated with industry tools like MailChimp, FeedBurner, BuddyPress
AMP supported
Goliath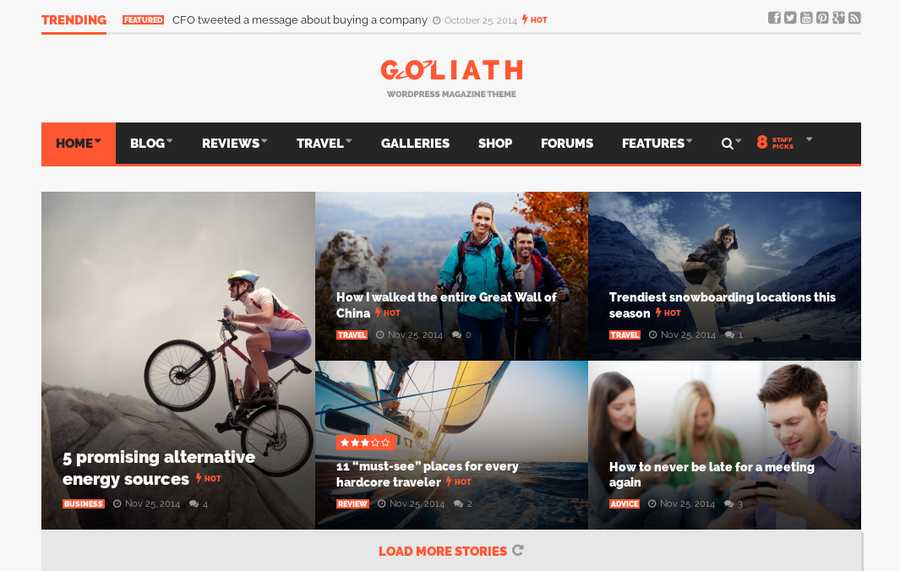 Diverse, efficient, and effortless; Goliath is perfect for review pages that focus especially on content. Blends well with big names like WPBakery Page Builder and Slider Revolution which comes along with this theme as a complete package. Highly customizable Goliath is no child's play to be precise! Translate pages, menus, and posts to reach out beyond national borders then lure more viewers into your website with enticing Parallax visuals. Check out the details:
Ready to take on WPML, WooCommerce, bbPress
Full-width page layout with start rating ranking system for each every post
Notable shortcodes, widgets, and custom-built admin panel
Manage the number and define spaces of advertisements for increasing revenue without comprising the website's visual appeal.
MultiNews
Website content does not promote itself. While developers try hard to optimize their ability to stay ahead of the competition in generating more ad revenue, content must not be compromised. So, let your news contents take the center stage while MultiNews manages other technicalities. Plugins such as WooCommerce, Ad Rotate, Mail Poet, Contact Form 7, and Newsletters would steadily boost business. Let's see what else is there:
6 posts layout with unlimited sidebars
Package Included Layer Slider and Slider Revolution & free lifetime updates!
Brilliant review system and ad management
Cross-device compatible and Apple iOS friendly.
Woohoo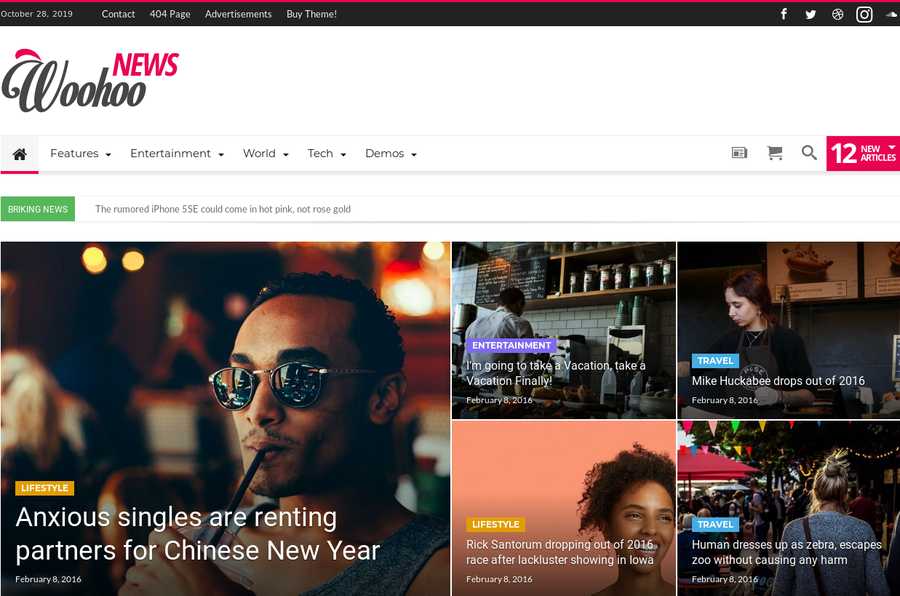 Woohoo is a versatile WordPress theme, ready to take on mobile news, magazine, and blog sites. Built for efficiency; Woohoo assures excellent speed and stable site speed. The $39 package comes with 6 months of support from Bdaia. Even if you extend it to 12 months for a total of $49.13; it would cost less than most other themes available in the market. Though cheaper, Woohoo doesn't hold back from delivering the good in any way. Let's see what it has to offer:
Optimized for SEO, Google Page Speed, and Gutenberg. MailChimp and Pagination integrated.
Supports: AJAX live search option, WPML, RTL, WooCommerce, bbPress, BuddyPress, Google Fonts
2 columns, 10 post types, 11 layouts.
Herald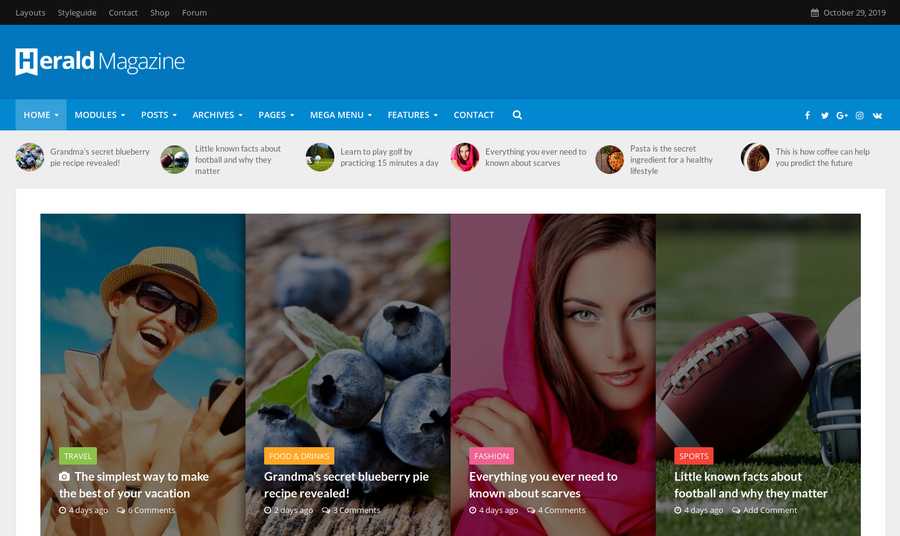 A WordPress theme that offers seemingly endless possibilities of customizations. Its 4+ column space gives a huge opportunity for news portals and magazine websites. Its developer Merks provide 6 months of support along with the $69 package. Cross-device compatibility, ability to generate healthy revenue, simplistic backend support, yes! It's a good bargain. Let's look at some of its other features:
Pre-defined spaces for ads
Individual layout and color preference for each category.
One dozen shortcodes to save extra time in coding
Multi-post format. You can even embed Tweets, Facebook statuses, Instagram uploads
The Voux
This theme is highly recommended for magazines. Since magazines emphasize quality images and videos, The Voux gives an ultra edge in that sphere. Shoppable image and premium video monetization would bridge the gap between virtuality and reality. Not only you'll read reviews and watch different products, but you will also get to order them online from the same page. The Voux is well documented, fully responsive, cross-device and cross-browser compatible. It also has WPML to create viewers into buyers beyond national borders! Image adaptability helps pages to load faster on the go. So, you don't have to worry about losing viewers anymore. It also has an unparalleled social sharing capability.
Last but not least, The Voux has an auto-updatable URL system for boosting your site traffic. So, why wait? Grab this gem of a theme for only $59 now!
Socially Viral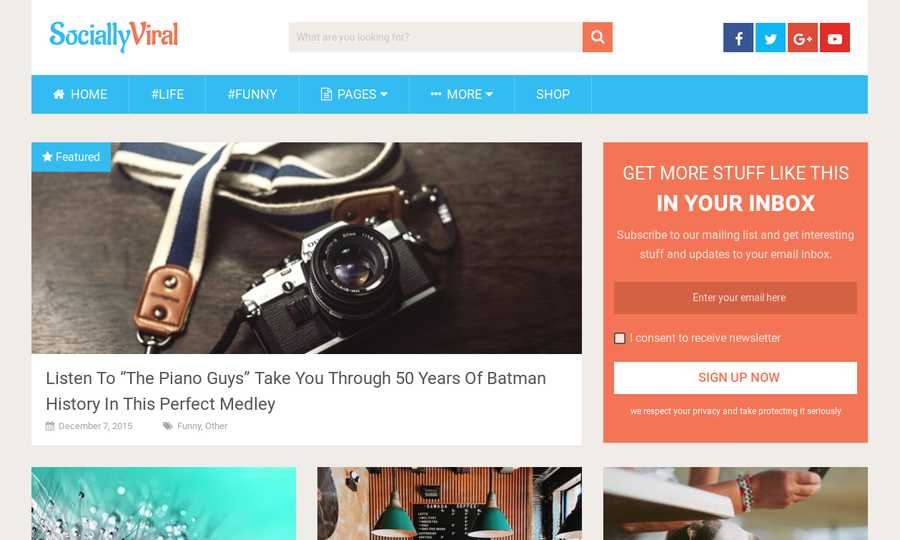 As designers, we look for seamless and versatile themes that serve our needs. Socially Viral is one such media magazine theme. Based on the overall views the most popular posts stay ahead automatically. Talk about going viral! SEO friendliness boosts site traffic to a significant extent. Visually appealing design with a mega menu feature influences viewers to stay a loyal fan base. Other features include:
AJAX search option
Lazy Load option
Built-in Breadcrumbs, Copyright section, Ad management option
Unlimited sidebars and social buttons.
MightyMag
This theme stormed the marketplace and raised the standard of themes to a higher level. MightyMag has a long list of features. As far as ensuring your website's presence and commercialization; MightyMag rules with an iron fist. Check out the details:
Optional rating system
Ready to take on WooCommerce, BuddyPress, BbPress, MailChimp Newsletter
6 Homepage templates
Unlimited colors, sidebars, widgetized areas, and collapsible
Prime News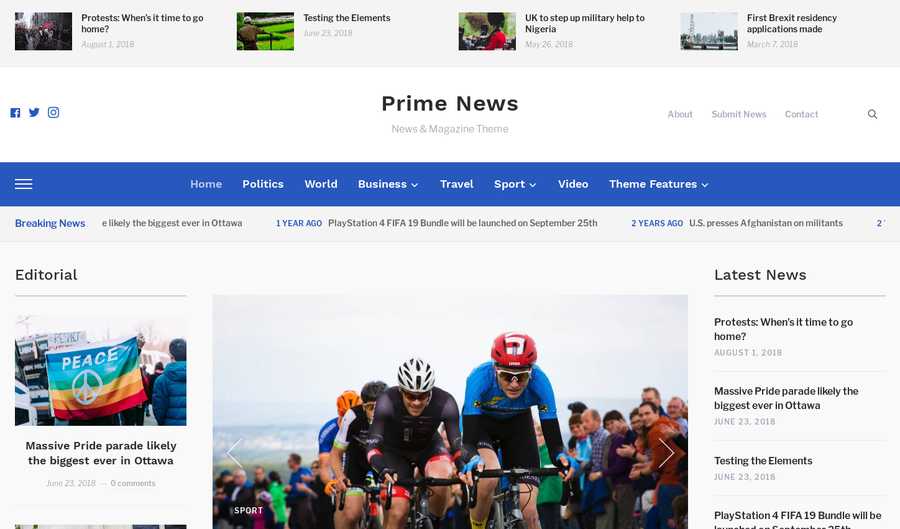 Take it as it is or tweak it to your needs. Prime News lets you handle your online publishing website with ease. With its 1 click demo, you can get some suggestions. 5 different color schemes, cross-device compatibility, carousel sliders, multiple widgetized areas… Quite convincing to start off! Other features include:
Enable unlimited scrolling ability with the Jetpack plugin.
Compatible with WPML. Multi-language translation issues have been resolved.
$69 package with 1-year support and updates