Those who work with website development know how important it is to optimize graphic files for online use by compressing image quality. But, the question is, why do we optimize the image for the web? We can easily accomplish image compression by using image optimization tools.
A survey also shows that if a webpage takes more than 3 seconds to load, the viewer gets irritated and navigates to another webpage. So, as it turns out, image optimization is an important factor in gaining viewers' confidence and ranking websites on Google.
Buying Adobe Photoshop for image compression is a huge cost for many. Free software GIMP can be used in this case, although its use is not as wide as Photoshop.
However, there are now several free tools online that can be used to do image optimization, while maintaining the quality of the image. Simultaneously, the image can be converted from one format to another.
In this post, we have explored some of the most effective online image optimization tools. With these tools, you can compress and download images of your JPG, PNG, GIF, WEBP, and many other formats from your browser. Some of these tools have a Pro version.
---
When it comes to an online solution for image optimization, this tool comes first. JPEG Optimizer is the best of these tools. The tool itself recommends compressing up to 65 percent of the image itself, though you can lower or increase this level to your liking. The default compression level will be sufficient for most users.
You can also set the image width when compressing. Once you select and upload the image, it will automatically compress and allow you to download the image. You can use the downloaded image in your post or anywhere else.
---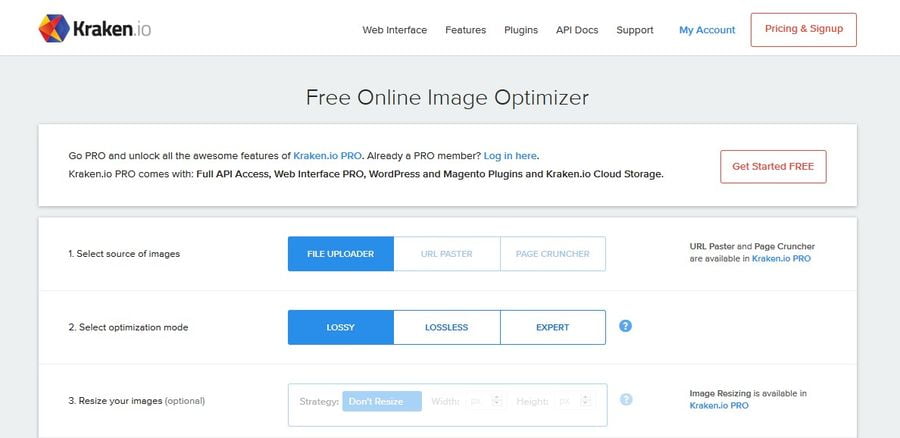 Kraken is an excellent online image compression tool, which will compress and optimize many of your pictures at once, and the size of the images will be much smaller. It can also compress JPGs, PNGs, and animated GIF images. When downloading your pictures you can download them one by one or by zipping them together. Kraken lets you save your pictures directly to Dropbox, or, from the Online Storage System Box, Dropbox, or, Google Drive, you can import photos.
In addition to the free users, a pro version of Kraken's service has been taken advantage of by considering advanced users. In the Pro version, users can resize images if desired, and the ability to import images from multiple sources; Even images of any size can be imported. In addition, it has many other benefits.
Kraken's file-handling facilities are quite astonishing. It allows you to upload a single image of 32 MB, which supports a maximum of 100 MB.
In the Pro version, you can compress files up to 500MB, 2GB, and 5GB, respectively, every month, costing $5/mo, 9$/mo, and 19$/mo for image optimization.
---
Promo is an online video maker that gives you everything you need to make high-performing videos. With Promo, you can also quickly and easily create a perfect GIF from any video. You can customize your GIFs by adding text to GIFs, cutting your GIF, and even resizing GIFs.
---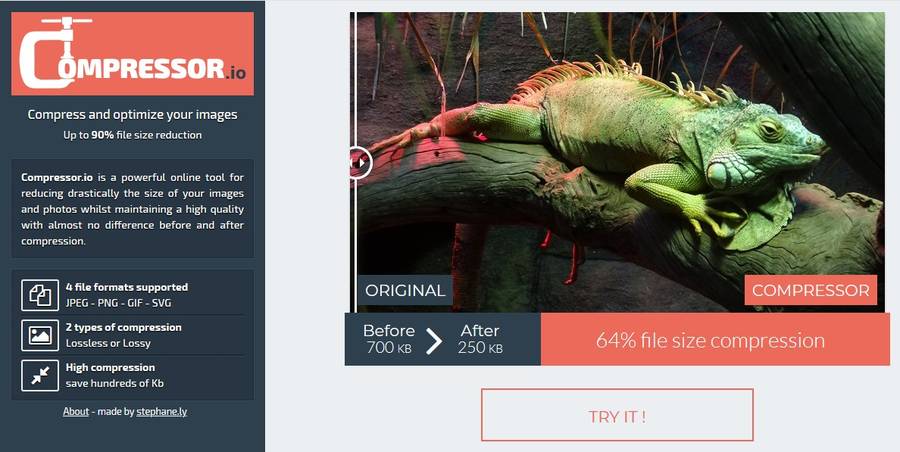 From the Compressor.io website, you can easily optimize your image. The site can work with JPG, JPEG, PNG, GIF, and SVG files. Usually, it does a great job of reducing the file size without causing any damage to the image.
However, this site offers the convenience of optimizing only one image at a time. If you have many pictures, upload them one by one, optimize and download them.
---
When asked for image optimization website suggestions, the search engine Google shows TinyJPG within the first 2/3 results of its search results. It has long been a service online, a very reliable site; They also have separate plug-ins for WordPress. The site can only work with images in JPEG and PNG formats. He also does a great job of reducing the file size. As much as possible without damaging the image, it reduces the file size. Besides, you can process up to 25 MB of images simultaneously through this web app.
---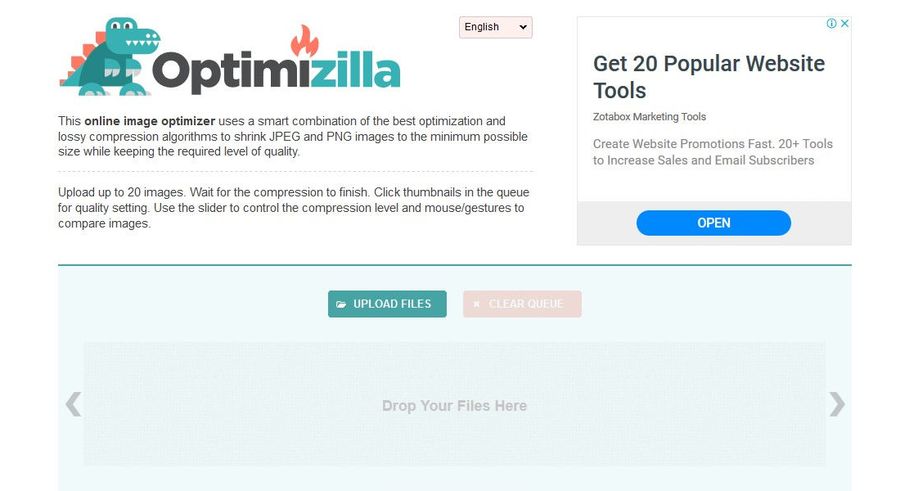 Optimizilla reduces your image's image size without losing its quality. Also, if you want, you can decide how much you want to compress your image in this web app. The site can work with JPEG and PNG format images. At the same time, the app is capable of optimizing 25 images.
---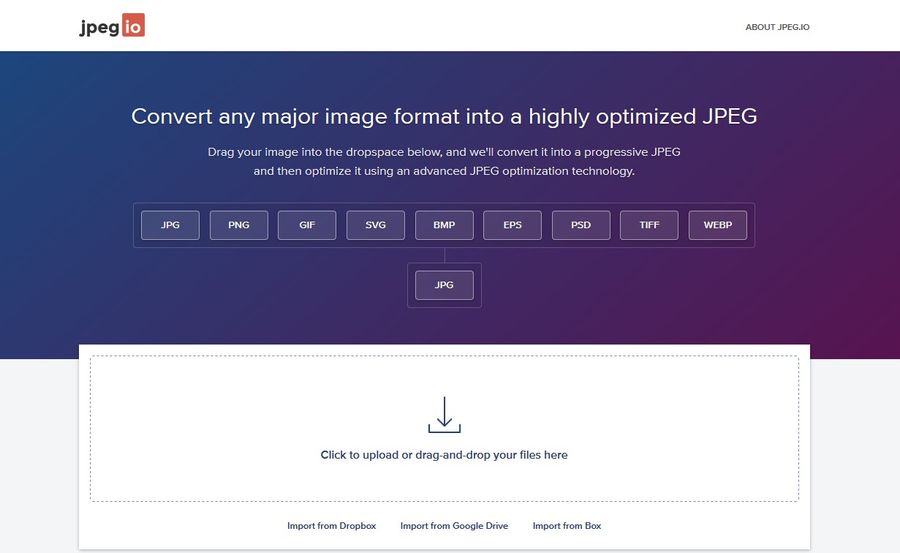 If you have images that do not have a .JPG format, JPEG.io has developed a beautiful online system for converting your images. On this website with a very simple user interface, you will convert your PNG, gif, SVG, BMP, webp, tiff, and even, eps or PSD graphic format files, so that you can download and use them.
A special feature of this image optimizer is that it can compress and optimize images by importing images from your Dropbox, Google Drive, or Box account. After optimizing the images you can download them in .zip format.
---
When optimizing images of multiple formats during online image optimization, the user does not have to scroll to multiple websites for each format. In that case, the ImageRecycle website will provide you with non-competitive service. This user-friendly website has a Drag-and-Drop feature for uploading your image. Upload the images you need, ImageRecycle will compress and optimize your images for download. You only need to click once to download!
ImageRecycle can generate reports on images that are not optimized for any page on your website. Copy and paste your URL into the box on their website and hit the "Get free port" button next to it. Type in your email address to get the report and get the free optimization report.
ImageRecycle offers some advantages over purchasing a Pro account. You can optimize by uploading 10,000, 30,000, or 100,000 images to 1GB, 3GB, or 10GB of online storage for one year with a subscription of $ 10, 20 $, or $ 50. You can back up / restore your images for 1 month. Pro account allows you to use their dedicated plugins for image optimization of WordPress, Joomla, and popular e-commerce systems. The 15-day Free Trial version works with a maximum of 100 MB limit images to test their service.
---
Upload the image, and, download the optimized image! There is no third step between these two steps. CompressNow is one such easy-to-use website for image optimization. Here you can bulk upload images in your jpeg, PNG, or gif format. Set the level to the right/left of the compression meter at the top of the website, upload your favorite 10 images in the Drag-and-Drop method and download the hot-optimized images.
---
It may seem like Ezgif only works with files in GIF format. However, after landing on the Ezgif website you will discover that it optimizes the file in popular PNG, WEBP, BMP, and SVG formats and converts it to JPG format.
The website can upload files of 2000 different formats at a time, the maximum size cannot exceed the 100MB limit. With these files, you can create animated GIFs. Uploaded files can be edited online such as resize, cropping, or color overlay. Ezgif's performance in creating GIFs as a fee image optimization tool is satisfactory.
---

Trimage is a cross-platform GUI and command-line interface to optimize image files for websites, using OptiPNG, PngCrush, AdvPng, and JpegOptim, depending on the file type (currently, PNG and JPG files are supported). All image files are losslessly compressed on the highest available compression levels, and EXIF and other metadata are removed. Trimage gives you various input functions to fit your workflow: A regular file dialog, dragging and dropping and various command line options.
Trimage is available for the *nix platform only meaning that Mac or PC users are better to stick to other choices from this list.
---
Online Image Optimizer lets you easily optimize your GIFs, animated GIFs, JPGs, and PNGs, so they load as fast as possible on your site. Furthermore, you can easily convert from one image type to another.
This image optimization service allows you to compress one image at a time and has a maximum size limit of 2.86 MB.
---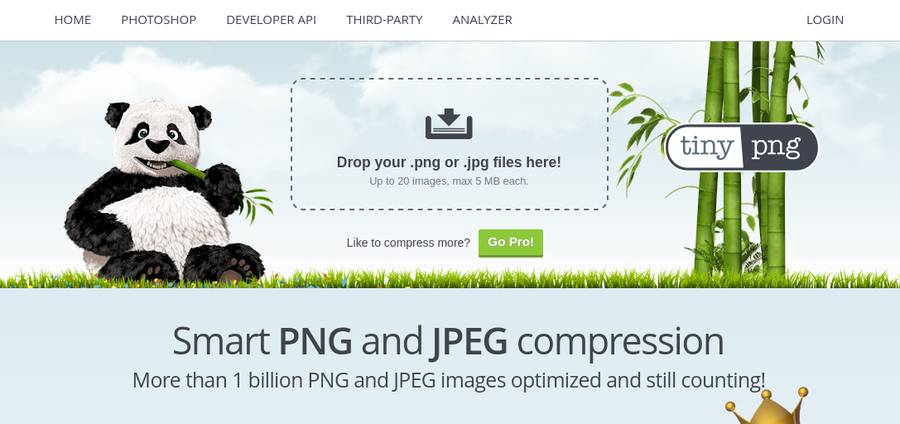 TinyPNG uses smart lossy compression techniques to reduce the file size of your PNG and JPG files. By selectively decreasing the number of colors in the image, fewer bytes are required to store the data. The effect is nearly invisible but it makes a very large difference in file size!
While working with this online tool, allows a file to have a maximum size of 5MB and allows a maximum of 20 images in one go, with a cap of 100 images in a month.
I tested a 55.4 KB-sized PNG file to try it out and the result was amazing! It squeezes out extra fats from it making it down to 14.2 KB saving 41.2KB of bandwidth.
TinyPNG also offers this amazing image optimization technique for WordPress and Magento, and recently added support for Zapier users to use their websites.
---
Resize Photos is a free online photo tool for resizing and compressing your digital photos for posting on the web, in email, or on forums. Browse the website, upload your pictures and begin applying effects like captions, borders, reflections, shadows, rounded corners, and rotation, or view the EXIF data.
Resize Photos support .JPG, .PNG, .GIF, .BMP, and .PSD file formats. Simply upload your images, set width in pixels, compression level (1 to 100), and choose an output format (.JPG, .PNG, .GIF, .BMP) to optimize images as you need.
---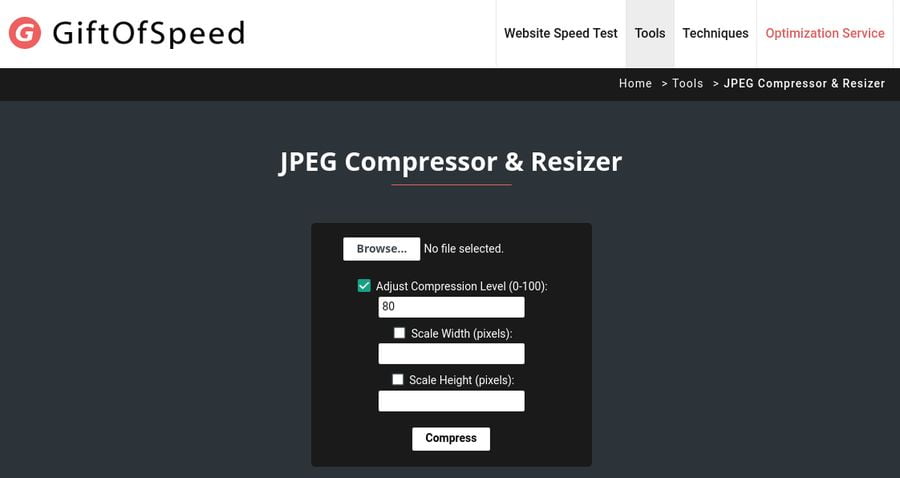 GiftOfSpeed offers two different pages to let you compress your PNG and JPEG images. By using this online Compressor and Resizer you can compress your JPEG and PNG files to much smaller file sizes (i.e. from 200kb to 100kb, or even 50kb) by adjusting the quality of the image and/or resizing the image.
The only limitation you will notice in using this tool – that is – it does not compress multiple images.
---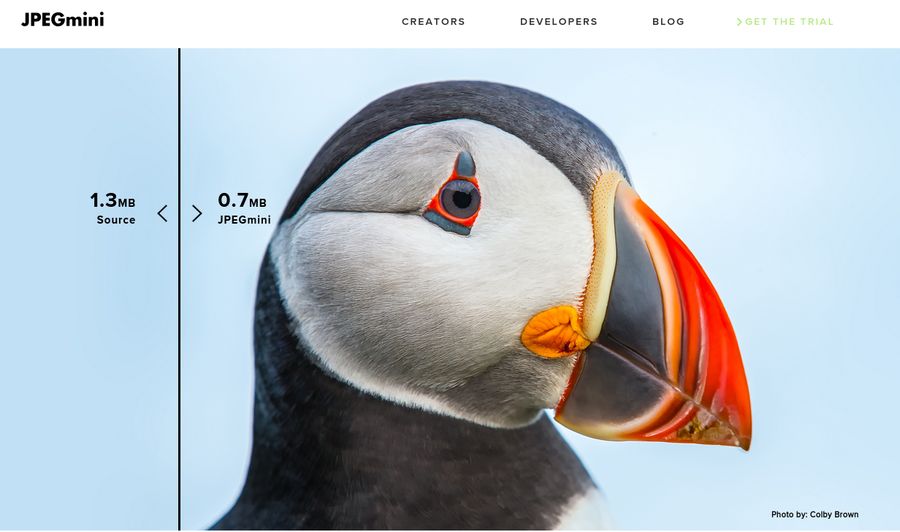 JPEGmini is a photo optimization technology that reduces the file size of JPEG photos by up to 5X while preserving the resolution and quality of the original photos. If you have an image-intensive website, your pages will load faster, improving user experience, monetization, and Search Engine Optimization (SEO), and you'll also reduce your storage and bandwidth costs.
You can upload Hi-Res photos faster, save tons of hard drive space, improve the customer viewing experience and make your website faster.
JPEGmini Pro app includes a plug-in for Adobe Photoshop and Adobe LightRoom that integrates into your image processing flow.
---
Based in Barcelona, ILoveIMG offers since 2016, simple and easy-to-use image editing tools that load fast. ILoveIMG compresses your JPG, PNG, or GIF images with the best quality and compression reducing the filesize of your images at once.
There are two ways to quickly upload your pictures. You can drag and drop your images from your desktop straight to their page. Or you can select your pictures by clicking on them individually. You can also choose images from your Google Drive and Dropbox accounts. After processing, you can save them directly to your cloud-based accounts.
WordPress users can take advantage of the image Compressor & Optimizer plugin developed by ILoveIMG.
---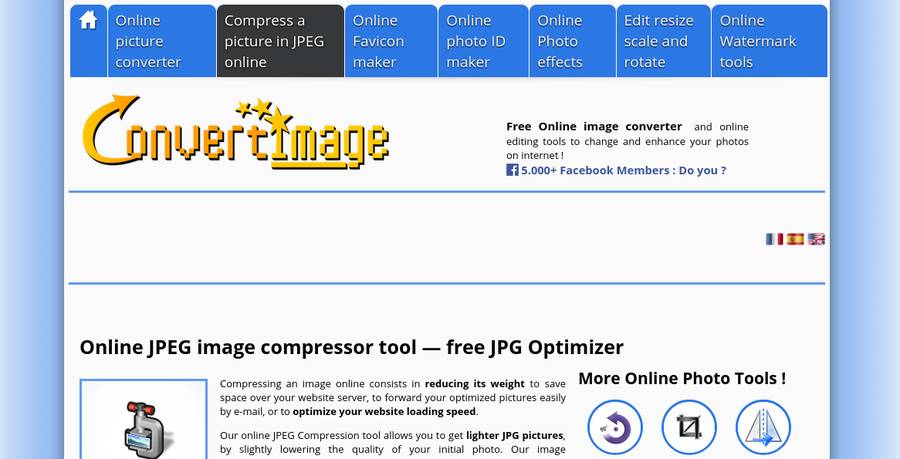 Convert Image is a free image optimization service website that takes your image and creates an optimized and lightweight picture, which will load much faster over the internet network. It takes the ICC Color profile of your image so the colors are maintained and preserved providing you with the finest quality optimized image.
It supports JPEG image and let you convert to other image formats like BMP, GIF, ICO, PNG, PDF, etc.
---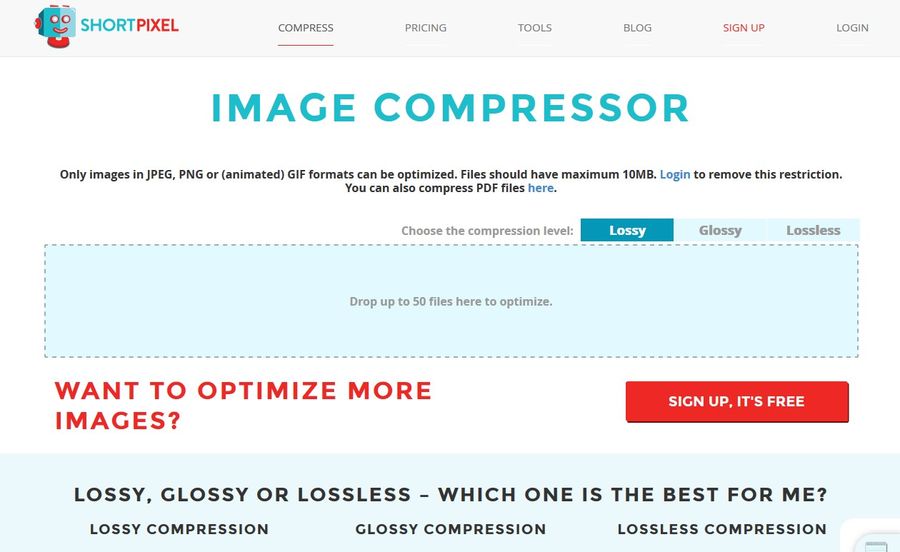 With the ShortPixel web app, you will have the opportunity to optimize 50 images at a file size of 10 MB each. The site can optimize JPEG, PNG, and non-animated GIF files. Before the end of the optimization, before downloading, you can easily view the image in comparable proportions.
---
We were very careful about creating this list of free image optimization tools so that the tools would be useful to the readers in practical terms.
I urge readers to take an image file of their choice, go to each website on the list, and make a note of the compression values ​​of the image. Based on this, you can decide for yourself which website tool works best for you. We request that you please share the test result with us.