Canonical's Ubuntu 20.04 release, with its radically changed eye-catching user interface, updated packages, and a wealth of software, has captivated the minds of many users and quenched their thirst for hope. There is no need to re-introduce Ubuntu. If one does not need the software created by Adobe, anyone can choose Ubuntu distro as his ultimate OS as an alternative to Windows Operating System (OS). He probably won't want to move to another OS. It has a bunch of Ready-to-go software for a user to run all the tasks of daily life.
Believe me, Ubuntu 20.04 is so user-friendly that you can use it right after you install it. In this post, I will try to introduce the user to its various software and features and change some settings in a way that will enhance the user experience while maintaining its performance and stability.
Things to Do After Installing Ubuntu 20.04
Let's not waste 2 hours watching a movie on Netflix, let's install the necessary software for our favorite distro and customize it a bit so that it becomes more productive for us.
Update, Update, Update: Download and Update your system
Be sure to update your system first and foremost after installing Ubuntu 20.04. Ubuntu has provided built-in software for this purpose. Its name is Update Manager. Open the Update Manager by pressing "Alt + F2", then type "update-manager" and press Enter.

This Update Manager will now connect to the Ubuntu server via the Internet to see if there is an installer package to update the current version of Ubuntu. If so, it will show a list of updates for your evaluation. Click on the "Install Updates" button. Ubuntu will ask for your password before the download starts. Type the password and press the Enter key. The pending update files will be downloaded and installed shortly, and your system will be secure.
Updates can be turned on in another alternative way. Press Windows Key and type "software updater" in the search box and launch the app.

For those who prefer to use Terminal, open the Terminal window and run the following one-line command:
sudo apt-get update && sudo apt-get dist-upgrade
Ubuntu makes no compromises on system security. For this reason, once installed on your device, it will detect security updates daily and other updates once a week and show you notifications for updates.
Setup Canonical Livepatch
Introduced in Ubuntu 16.04, Canonical Livepatch allows your system to install kernel updates without rebooting the machine. Ubuntu takes security very seriously and Livepatch helps you to keep your system secure. Livepatch fetches security updates and applies them automatically. It allows you to secure 3 of your machines (for personal use) and it's free. It requires an Ubuntu One account to enable it, though.
There are two ways to set up Livepatch:
Go to Activities, search for Livepatch, and, open it, or,
You can open the Software & Updates and click on the Livepatch tab. You must log in to your Ubuntu One account before using it. If you don't have one, don't worry, it's free to sign up.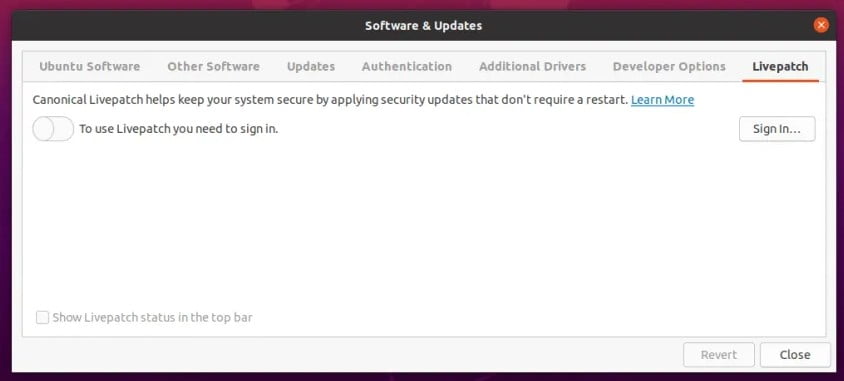 Setup "Snap Store"
Snap Store is a graphical desktop application for discovering, installing, and managing snaps on Linux OS. It showcases featured and popular applications with useful descriptions, ratings, reviews, and screenshots.
If Ubuntu 20.04 is newly installed, then Snap Store is already installed with it.
You can use your Snap Store account to get access to the app developer's private snaps.
However, those who have an Ubuntu One account can sign in and install public apps from the Snap Store.
Turn on "Automatic Login"
Ubuntu users who use a single user account on their PC / Laptop and do not have a second user account, however, can use the "Automatic Login" feature on their Ubuntu system.
If this feature is turned on, you will no longer need an initial password to access Ubuntu. Ubuntu will automatically log you into your user account.
What is Your Favorite Browser? Install it
Mozilla Firefox comes bundled with Ubuntu 20.04 as its default browser.
What is your favorite Internet browser? Are you a die-hard fan of Chrome, Opera, Konqueror, or, else?
Ubuntu let you install it from the respective browser's website. Navigate to your favorite browser's official website and download the .deb package on your PC/device. Press the right-click button and select the "Open With Software" option. It will get you the file in Software Center and click on the "Install" button to begin the installation of your browser.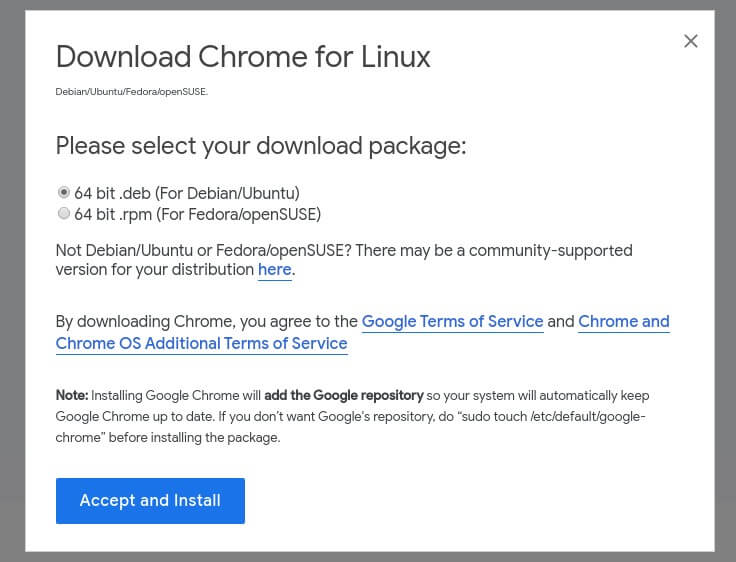 Note: Ubuntu has completely discontinued support for 32-bit software from version 20.04. It is now designed to use only 64-bit software.
Experience Dark Mode. Do you enjoy it?
Dark Mode is the talk of the town. Dark Mode is included in Ubuntu 20.04, although this Dark Mode has to be switched manually. It is very easy to change from default mode to dark mode.
Open Settings > Appearance
Select "Dark" under "Window colors"
Wow! The color theme of your Ubuntu OS has changed to Dark Mode instantly. If you look closely, you will see that the background of most of your applications is dark and its toolbar also has a matching contrasting color of dark color.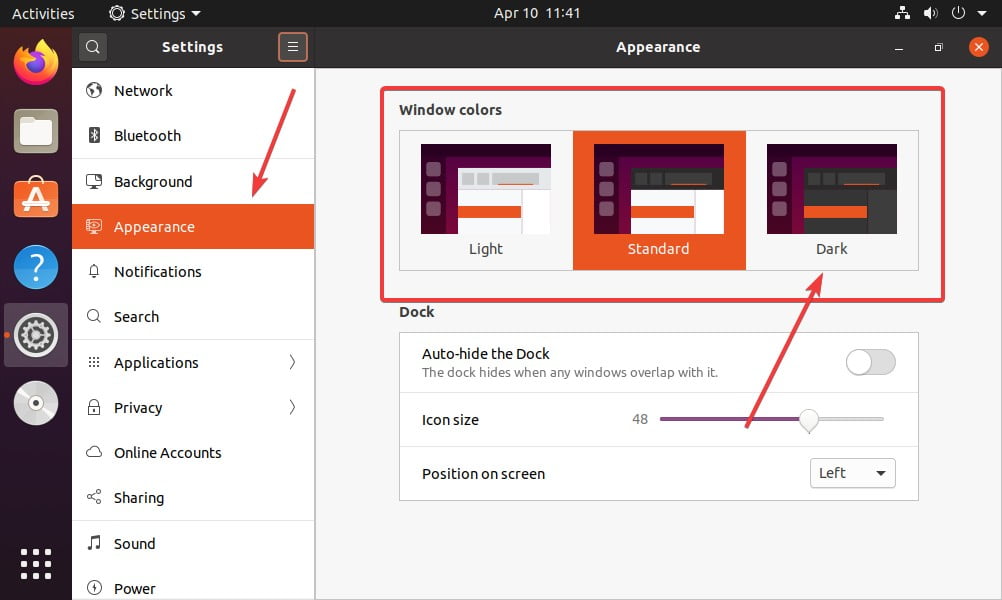 Note: It is worth noting that the color of the GNOME Shell UI, such as notifications, calendar, and system menu has not changed since the introduction of the Dark Mode theme, but has remained the same.
Use of System Automatic Suspension and screen lock: Get Better Laptop Power Backup
Special importance is given to all operating systems for battery power management of laptops so that more power backup can be obtained from its batteries. Ubuntu is no exception.
To prolong battery backup, if nothing is done for 20 minutes in Ubuntu 20.04, your laptop, by default, go into "Automatic Suspend" mode.
In addition, you can reduce the brightness of the screen and keyboard, turn off the screen blank, and Wi-Fi, Bluetooth – toggle some options – which can save your laptop battery backup.
With the "Power Button Action" option, you can choose whether pressing this button will cause your laptop to use "Power Off", "Hibernate", or "Suspend" mode.
You can customize your laptop from these options as per your choice.
Focus on Uninterrupted Work using the "Do Not Disturb" Mode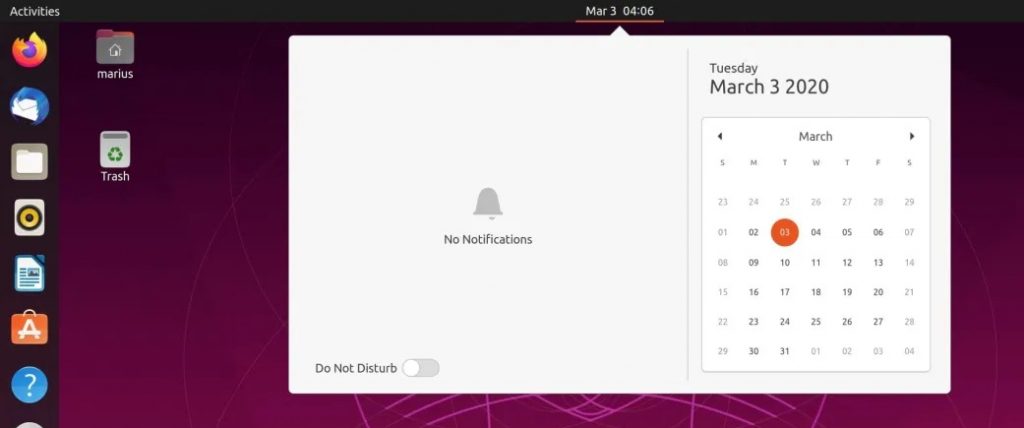 "Do Not Disturb" mode has been added to Ubuntu in the same way that notifications can be turned off on modern mobiles. Ubuntu shows a variety of notifications. This often disrupts attention. If your important work requires uninterrupted attention, you can turn on the "Do Not Disturb" mode.
Even if this mode is turned on, notifications will be stored in the message tray. However, they will have no visual pop-up representation. You can read the notifications later if you wish at a convenient time.
Change to Your Favorite Wallpaper
It is very normal to open your PC or laptop and want to see beautiful, eye-catching wallpapers in front of your eyes. Ubuntu 20.04 comes with a wallpaper preset from Canonical. Every time I install a new system, I choose the wallpaper of my choice and change it.
You can also change the wallpaper of your choice if you want. Ubuntu 20.04 Distro comes with a number of eye-catching wallpapers. If you want, you can change the wallpaper from Settings > Background.
Turn on "Night Light"
"Blue lights" are emitted from screens and monitors of all types of electronic devices, which are considered harmful to the human eye. This blue light has a detrimental effect on the eyes and affects people's sleep patterns. Ubuntu 20.04 has a new feature called "Night Light" that will protect your eyes from harmful blue light.
You will get an idea about this feature from the screenshot below. To turn on this feature, you need to navigate to Settings > Screen Display> Night Light and turn on the "Night Light" option.
Sync Time and Correct Your Timezone
After installing Ubuntu 20.04 on your PC / Laptop, choose the correct timezone based on your location and sync the Atomic Time of your device with Word Time Server. With this, the timing of your device will always show correctly. Ubuntu has a user interface that allows users to set time and timezone, as shown in the screenshot below.
Open the "Settings" applet from Ubuntu's App Launcher. Now, click on the "Date & Time" icon from the navigation panel on the left of the "Settings" window.
Toggle the "Automatic Date & Time" button to "On". This will sync your device's time with the International Time Server.
Timezone will be determined automatically by toggling the button labeled "Automatic Time Zone".
Otherwise, you can set the "Time Zone" manually.
From the option called "Time Format", you can display the time as 12 hours, or 24 hours.
Install Your Favorite Software
At the beginning of this article, I mentioned that with the software that comes preinstalled with Ubuntu 20.04, users can perform their normal tasks. Every user needs software with different needs. That's why there are so many free, paid, and open-source licensed software for Ubuntu users. Which of the following software would you choose?
To install software from Ubuntu's app repository, you need to open it by clicking on the "Ubuntu Software Center" icon. To make it easier to find the software here, they have been included in different categories, such as Audio & Video, Communication & News, Games, Productivity, Graphic and Photography, Addons, etc.
The names of some software that are more popular among the users are:
GNU Image Manipulation Program (GIMP):
A free and open-source image editor that can perform a myriad of tasks such as photo retouching, taking screenshots, free-form drawing, and more enhanced graphic editing tasks.
Kdenlive:
Kdenlive is a free and open-source video editing software based on the MLT Framework, KDE, and Qt.
InkScape:
Inkscape is a Free and open-source vector graphics editor for GNU/Linux, Windows, and MacOS X.
OBS Studio:
Open Broadcaster Software (OBS) is a free and open-source cross-platform streaming and recording program built with Qt and maintained by the OBS Project.
VirtualBox:
Oracle VM VirtualBox is a free and open-source hosted hypervisor for x86 virtualization, developed by Oracle Corporation.
VLC Player:
The VLC media player is a free and open-source cross-platform multimedia player that plays most multimedia files as well as discs, devices, and network streaming protocols.
Chromium:
Chromium is an open-sourced web browser project made by Google.
Flameshot:
Flameshot is an incredible screenshot tool for Linux. It is user-friendly and has some wonderful editing options and a cloud-share option.
FileZilla:
The FileZilla software program is a free-to-use (open-source) FTP utility, that allows a user to transfer files from a local computer to a remote server.
Skype:
Skype is an IP telephony service provider that offers free calling between subscribers and low-cost calling to people who don't use the service.
Dropbox:
Dropbox is a cloud storage service that lets you save files online and sync them to your devices.
Discord:
Discord is a group-chatting platform originally built for gamers, but it has since become popular for many kinds of communities.
Google Chrome:
Google Chrome is a cross-platform web browser developed by Google. It was first released in 2008 for Microsoft Windows and was later ported to Linux, macOS
Slack:
Slack is a new way to communicate with your team. It's faster, better organized, and more secure than email.
Steam:
Steam is the ultimate destination for playing, discussing, and creating games.
Zeal:
Zeal is a simple offline documentation browser inspired by Dash. Screenshot.
Putty:
PuTTY is a free and open-source terminal emulator, serial console, and network file transfer application.
Connect to Social Media and Online Accounts
The people of the world are connected to each other by the internet. And, in this work, companies like social media, Google, Microsoft, Dropbox, Collaboration Suite, etc. help us to stay connected. Computers, laptops, smartphones – all these different brands of software have background services for all devices. If you have Ubuntu installed on your device, you will want to add all these online accounts.
For this, you first go to "Activities", find, and click on "Settings". Now click on the "Online Accounts" icon.
The next tasks are easy. Connect yourself by typing the usernames and passwords of all the online accounts you use one by one.
Setup Keyboard Shortcuts
In Ubuntu, keyboard shortcuts can be easily configured to suit the preferences and convenience of its users. This increases the productivity of the users. Launching the application of your choice, minimizing all the applications at once, or, moving a workspace up or down – some of the essential tasks can be done instantly with shortcuts.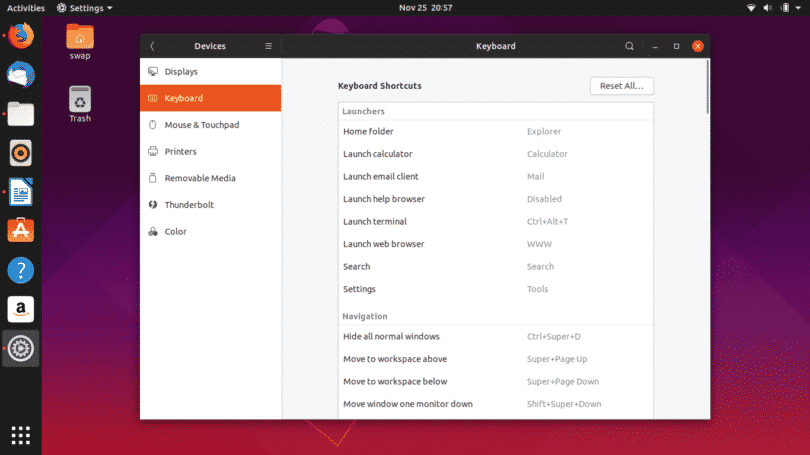 Configuring keyboard shortcuts on Ubuntu is very, very easy. To do this, go to Settings and navigate to Devices > Keyboard window. Here you will see the default keyboard shortcuts. Click on the keyboard shortcuts that you want to change from this list to the keyboard shortcuts of your choice.
Set Up the Email Client
The default email client in Ubuntu 20.04 is Thunderbird, which offers cutting-edge features such as speed, privacy, and the latest technologies.
To open it, click on the Thunderbird icon and set up an existing email account or do a manual configuration.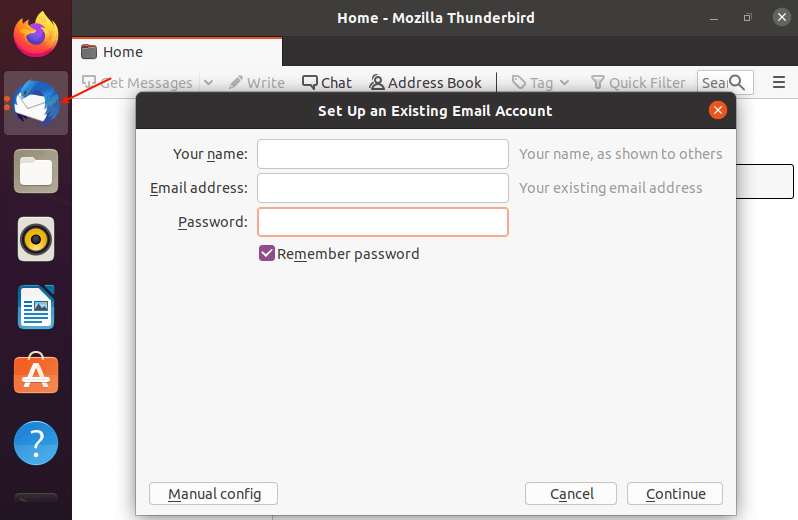 Access the "Terminal": The Command-line Warrior
"Terminal" is a tool that takes some pre-defined command from you as input and runs it to executive an application, starts a service, or whatever it may be. There is a variety of ways to invoke the Terminal in Ubuntu 20.04. The quickest ways are:
Right-click on any free space on the Desktop, choose "Open in Terminal",
Press the Keyboard Trio "Control + Alt + T". You will find yourself in a black box with a command prompt like the screenshot below: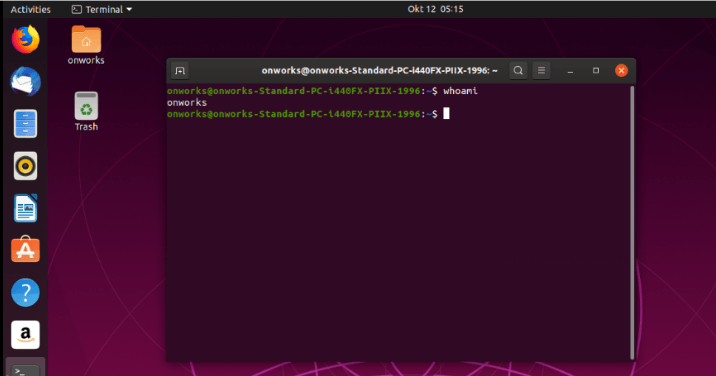 Show the Remaining Battery Percentage
The Ubuntu 20.04 Focal Fossa distro uses a vertical "bar" to indicate the remaining charge of a laptop battery. It does not immediately provide any meaningful hints. To do this, enter the Status Menu and see the details to understand the actual amount of battery remaining. However, in addition to the graphical bar in this version, the remaining amount of charge is represented by a percentage number.
To change this setting using GNOME Tweaks, you need to follow the procedure:
Open GNOME Tweaks
Select Top Bar
Slide the Battery Percentage setting to On.
If you do not want to use the GUI, this setting can be turned on in shortcut mode. In that case, if you run the command below the "Terminal" command line, the number of battery percentages will be turned on immediately.
gsettings set org.gnome.desktop.interface show-battery-percentage true
Needless to say, only those who use laptops will follow this procedure.
Install GNOME Tweaks
GNOME Tweaks make it easy to set up some advanced Linux settings. It is a graphical user interface that allows you to customize your desktop. GNOME Tweaks are very easy to install. Press "Ctrl + Alt + F2" to bring up your Terminal key on the monitor, and run the following command:
sudo apt install gnome-tweaks
Although designed and developed for the GNOME Shell, you can run it on other desktops as well.
Install Some Useful GNOME Extensions: Enrich Desktop Widgets
Lots of add-ons have been created to add new functionality to the GNOME desktop. These are called GNOME Extensions. These extensions are available for download on GNOME's website. Weather reports, folder management, CPU power management, and clipboard indicator – are some essential features you can add to your Ubuntu system by installing this extension.
Run the following command to install GNOME Shell Extensions,
sudo apt install gnome-shell-extensions -y
Now open the Web Browser, add the "GNOME Shell integration" add-on and after that go to the Terminal again and run the below command,
sudo apt install chrome-gnome-shell -y
Now again to go Web Browser, click on "Gnome Shell Extension" and Click on "OpenWeather" extension,
Let's enable it,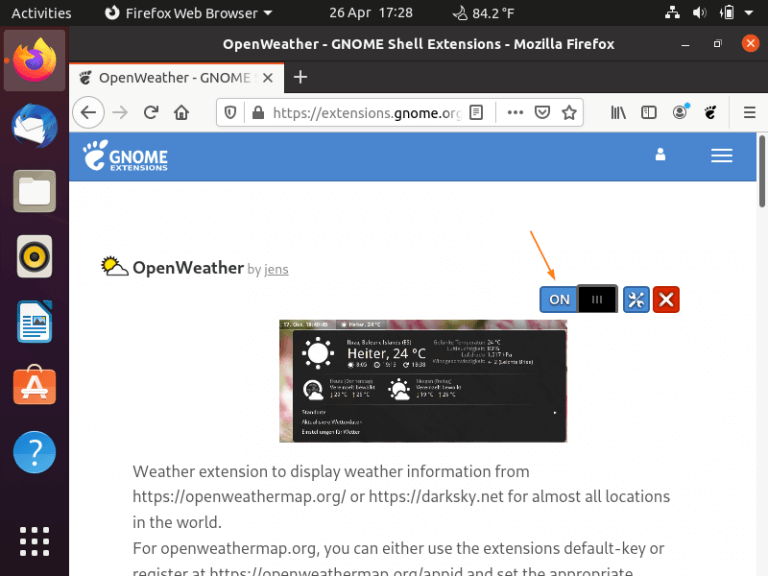 If you now notice that the "OpenWeather" extension is visible along the top status bar. Click on it, and spend some time setting your current location.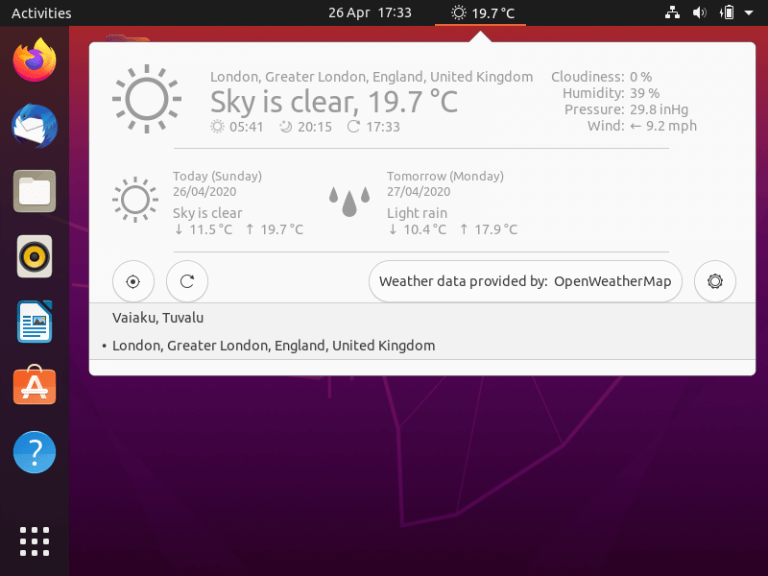 Install Steam for Games including Windows-only Games
Ubuntu gamers can play games online via "Steam". Steam is a leading platform for the delivery and management of PC and Mac games with over 50 million accounts around the world and over 2,000 titles offered.
Ubuntu enables you to play a number of Windows-only games on Linux via Steam's new Proton project. In addition to that, Ubuntu 20.04 comes with Feral Interactive's GameMode installed by default which automatically optimizes the Linux system for gaming performance.
You can install Steam from the Ubuntu Software Center.
Alternatively, you can install Steam using Terminal by running the following command:
sudo apt install steam
Enable Firewall (ufw)
When installing Ubuntu, it comes with a free firewall called ufw. This is, by default, disabled. It has to be enabled with commands.
To see the current status of ufw, open the Terminal, type the following command and press the Enter key:
sudo ufw status
Status: inactive
To enable this firewall, run the following command again:
sudo ufw enable
Command may disrupt existing ssh connections. Proceed with operation (y | n)? y
Firewall is active and enabled on system startup
All the new software that will be installed later will have to be added to the white list of ufw's firewall.
For those who do not want to use the command line, they can install gufw. It actually manages UFW commands in the background, however, it has a graphical user interface.
TimeShift: The Backup Tool for Ubuntu
Timeshift is a very useful open-source application that allows Linux users to create incremental snapshots of the file system at regular intervals. Users can use restore their system to an earlier working state from these snapshots in case of any unfortunate disaster.
Run these lines of commands to add custom PPA and install TimeShift on your system:
sudo apt update
sudo apt install timeshift
Add Your Favorite Apps to the Dock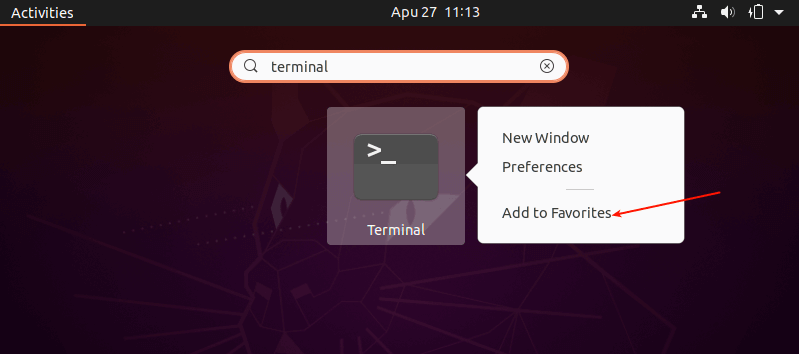 The Ubuntu Dock, by default, is placed on the far left of your desktop, and there are some app shortcuts preinstalled. If you wish, you can place the software icon of your choice here. To do this, right-click on the app of your choice and select "Add to Favorites" from the context menu that appears.
Run Windows Apps using Wine
An open-source software called "Wine" runs Windows-based apps on the Ubuntu 20.04 platform. It is a compatibility layer for running Windows applications on UNIX-like or POSIX-compliant operating systems (e.g. Linux, Mac, BSD).
For this, you need to install "Wine" on your Ubuntu PC.
To install Wine, run this command.
sudo apt install wine winetricks
Add Your Useful Fonts
Good font or typeface is required for design, presentation, etc. The method of installing your favorite fonts on Ubuntu is very simple.
Copy all your fonts to the ".fonts" folder which is already available in the "Home" folder (if the ".fonts" folder does not exist, you must create one).
mkdir ~/.fonts
cp ~/Downloads/Bitwise.ttf ~/.fonts
Ubuntu will make all the newly-copied fonts available for your use immediately.
Note: If the list of fonts you prefer is long, create a sub-folder with the first letter of the font in their name, and put it in it. Now copy all these sub-folders to the ".fonts" folder.
Load Application on Startup
Ubuntu 20.04 Focal Fossa features the ability to auto-start any software when logging in to your system. This feature allows you to "Add" the software you need to the "Startup Application Preferences" list. The software in this list will be launched one by one when the user logs in.
Keep Ubuntu Clean by Removing Unused Packages
Running with Ubuntu, many software packages need to be deleted after installation. Some of these packages may be uninstalled, but some of the files may remain in the folders associated with some packages. It is a good practice to delete the files of one or more remaining packages from time to time.
This should be done using the command line "Terminal". The command that allows you to delete all unused packages is given below:
sudo apt autoremove
---
What are your thoughts after installing Ubuntu?
The word "useful" is relative, meaning that it carries a different meaning for each person. What is "useful" to me will seem "superfluous" to others.
In this post, we have tried to highlight the issues that Ubuntu users face while using the new version. Many essentials may not be discussed here, which may catch the reader's eye. And the topics that should be discussed, if you let us know, we will attach them to this post.
The release of Ubuntu 20.04 has taken the users' aspirations to new heights with this release. Ubuntu will come up with more new and exciting features in future releases, this is the expectation of all Ubuntu users. Ubuntu will gradually become more popular.