A picture tells a thousand words. Needless to say that without images, a website would look like a long and dull string of codes. Images create visual appeal. It is a brilliant way to exhibit your aesthetic quality.
Individual statistical reports have shown that images do increase site traffic, conversion rate & Click-Through-Rate (CTR). Those eye-catching WordPress themes & Joomla! templates have a relatively higher sales pitch than most other web templates. Even in social media like Facebook, an average post would generate "Engagement" only half of a post that includes a matching image. The comment rate doubles up in posts where a beautiful photo is added as well.
Now, our concern is to find relevant, high-resolution, and open-source images that fit our blogs, social media content, or websites. Of course, the best stock sites aren't giving away images for free. So, we will keep an eye out for those free-of-cost images or Creative Commons images that let you customize images without worry. So, we are here to offer you a very resourceful list of free stock photo websites.
Launched in 2013, Unsplash has now become one of the largest free stock photo sites in the world. So far more than 1 billion images have been downloaded from this site. This huge ocean of ​​photos has been created from the contribution of thousands of local photographers from all corners of the globe.
Downloading pictures from the Unsplash site is very easy – there is no hassle of signing up, or, no need to waste time subscribing. Just visit the site, and download the picture you like. This site has a search engine to find your favorite images. You can also submit pictures on this site if you wish. After submitting the photo, the Unsplash team will publish your image on the website once they are satisfied with your photo.
Pexels offers more than 500k+ great free photos & videos for designers, bloggers, and everyone who is looking for visuals to use for personal and commercial use for free. If you want to download any photo, browse them, or, search by any keyword, pick a photo and download it to your PC or device. All photos on Pexels are free to use and no attribution is required at all. Anyone can submit photos/videos to "pexels" by creating an account there. All photos and videos you upload will be released under the Pexels license. Pexels also offers its own API.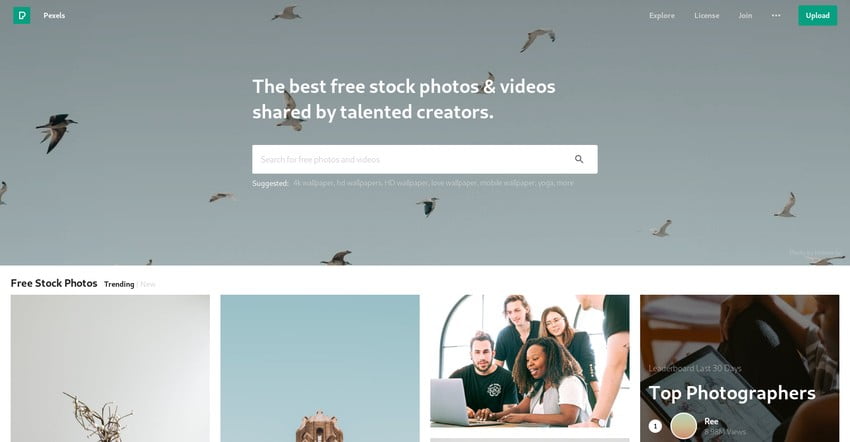 Pixabay.com is a globally renowned free-to-use website for sharing photos, illustrations, vector graphics, and film footage. It is a vibrant community of creatives, who share copyright-free images and videos. Pixabay offers over 1 million free high-quality photos, illustrations, vectors, and videos. With the launch of Pixabay on November 27, 2010, held by Hans Braxmeier and Simon Steinberger, its current number of users has exceeded one billion.
Find your perfect free image or video to download from the Pixabay website and use it for anything. You can use them for free for commercial use; no attribution is required. Here, anyone can upload good-quality pictures, however, the pictures are available when the Pixabay team verifies the picture quality and confirms quality. Again, anyone can donate to the author of the photo.
Picjumbo has set up an assortment of pictures to give all the Internet users of the world to download all of its pictures free of cost. Just like picjumbo allows you to download photos for free, they also have premium photo collections. The images on this website are divided into different categories. Again, there is also a way to find the user's favorite image by searching with the keyword of the image. After finding your favorite picture, just download the picture with one click. The downloaded pictures can be used in any way, there is no restriction.
Powered by the strength of Shopify, Burst is a free stock photo platform that includes thousands of high-resolution, royalty-free images that were photographed by photographers around the globe. Anyone can download the pictures from this site and use the pictures in any way. The pictures on the site are divided into different categories.
You can also find your favorite pictures using the search feature. You can get new photo notifications by subscribing to the site.
Among the photos, some photos are licensed under Creative Commons CC0 while the rest of the others bears Shopify's own photo license.
Gratisography is a haven of the world's quirkiest collection of high-resolution photos, comprised of the world's best, most creative images which you may not find anywhere on the Internet. All photos here can be used in any form, personal or commercial. The pictures here are all divided into categories. There is also a search for pictures to find your favorite pictures. Gratisography was founded and created by Ryan McGuire.
freestocks.org offers royalty-free high-resolution stock photos for both commercial and personal projects under the CC0 license. On their stock, you can find a wide range of themes for various purposes you might need to use the images for. The collection is divided into several categories. You can also search for any given topic using a search box at the top of the website.
Freeimages is another source of freely downloadable stock photos – all free for personal and commercial use. It has over 350,000 amazing photos that you can browse in your heart's will, browse by category, or, take the assistance of a search engine on this site. Freeimages also offer exclusive and premium quality photos apart from the free photo collection.
Kaboompics hosts millions of high-resolution royalty-free stock photos which drives 70,000 people from 209 countries to this website every month. Kaboompics is one of the most popular sources of free images for lifestyle, interior design, and specialized bloggers in the World. Karolina is the founder of Kaboompics.com and the author of all the images that you can find on it. All the photos are free; free means free. After downloading, users can do whatever they need to do with the photo, including commercial use.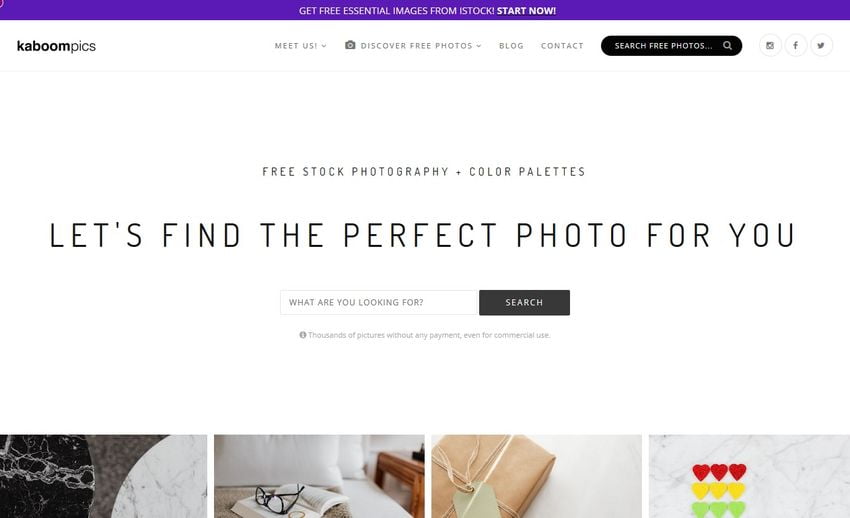 What is technically meant by the term "Negative space" in photography, is that "NegativeSpace" offers the opportunity to download exactly those types of images for free through their website. That's right. Their picture has a common pattern – each image will have a focal point, and, the remainder of the photo frame is blurred.
Here, it is quite easy to find the picture as it is tagged with the dominant color and keyword of each image. The images can be used based on the Creative Commons CC0 license.
For any sort of image for your blog, graphic design, slide presentation, etc., StockSnap offers you the right images every time. You have the freedom to copy, edit, modify, and distribute those images in a variety of formats and purposes – including business-related ones.
Every single image on StockSnap is governed exclusively by the generous terms of the Creative Commons CC0 license. Do you have some beautiful photos in your hand? Wanna contribute to StockSnap? Just create a free account and upload your photos.
By enriching their collections by uploading images every Thursday, Jaymantri has solidified itself as a collectible free image website. You do not have to register, nor have any trouble signing up to download the image from their website. Browse the Creative Commons Zero (CC) license images and download your favorite images. No one will tell you what you have done with the images.
If you are looking for free photos and illustrations for websites, ads, newspapers, etc., "freedigitalphotos" would be a good source. Their free photos are taken by community-based professional stock photographers and are high quality, most of which are about people and businesses.
To find the right picture among the numerous pictures, the pictures are divided into categories; and there also is a search feature. Every image is free, with an option to buy larger images at reasonable prices.
Using the advanced search engine of the popular search engine "Google", you can find copyright-free images from the vast collection of Internet sites.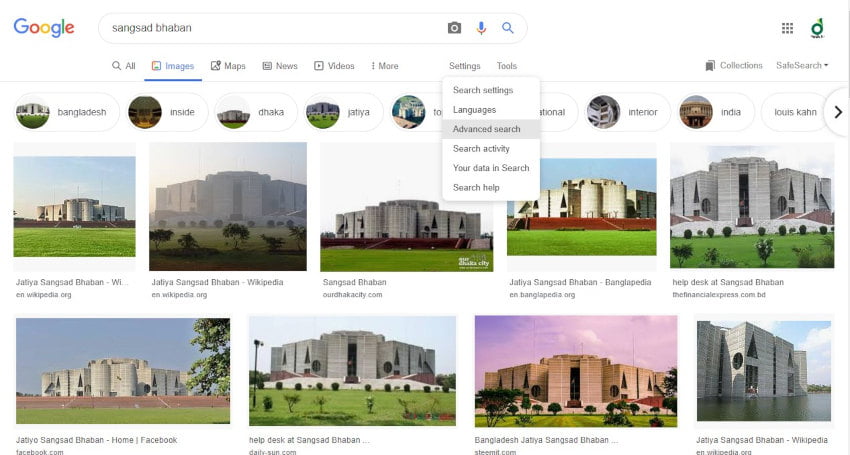 Search Google with any keyword, just click on "Images" to find the images. Now, click on "Settings" and click on the "Advanced search" option. A form like the one below will appear for "Advanced Image Search". Here, select the "free to use, share or modify, even commercially" option from the "usage rights:" options. Click the "Advanced Search" button. In search results, you will see free pictures only.

The STOKPIC website is a huge collection of varied pictures of various categories. Each image is of high resolution that you can use in any way you can – personal or commercial – in any form. You can use the search options to find your favorite images.
If you want to use a photo in your project, STOKPIC requests you to give credit to them if you wish, but there is no obligation; however, you cannot redistribute their images in any way. In addition to the free pictures, there are paid premium photo downloads on this website.
Home of thousands of curated collections of the best images and videos, ISO Republic provides them all free in high-resolution quality with CC0 tension-free licensing facility.
All images are kept under categories and a separate page where images are grouped into 18 themes, Animals, Architecture, Art, Business, City, etc. The search facility is extremely fast. You can use images and videos both personally and commercially.
Partnered with GettyImage's iStock, Freerange Stock updates their cache of photos daily which turns out to be a collection of high-resolution, high-quality free photos and illustrations. Images are edited and saved in 2400×1600 dimensions and require a hassle-free registration to download for use personally and commercially.
Dreamstime is historically best known as the best source of premium photos, but, netizens can download high-resolution Royalty-Free and public domain (CC0) images for free. No registration hassle, just click and download. Photos you get from here are permitted to do anything as your heart's will. You can do whatever you want with the pictures downloaded from here, no problem.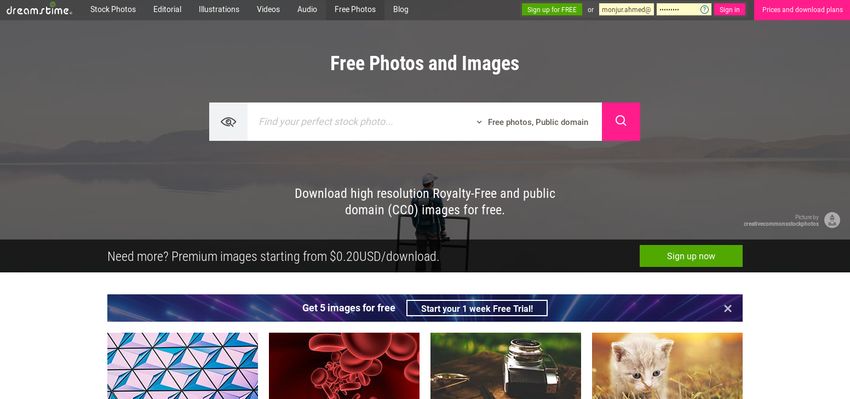 StockPhotos.io is a high quality, high-resolution public domain and Creative Commons licensed professional free stock photos sharing community. There are currently around 27,000 images in it arranged in the Pinterest-like grid layout. StockPhotos.io strongly suggests that users provide proper attribution to the owner of the photo when used in their projects. StockPhotos.io is founded by David Choi.
Rgbstock is a collection of more than 100,000 fabulous high-quality stock photos and dazzling graphics for illustrations, wallpapers, and backgrounds which are contributed by pro-photographers and graphic veterans. A free registration is required to download your favorite photo to enrich your work, personal or commercial. Rgbstock encourages pro or amateur photographers or graphic artists to share their photos and illustrations for their multi-lingual website.
Reshot offers uniquely free tons of handpicked, non-stocky images. Reshot aims to unify creators via a free exchange of the world's best visual content. Their collection of photos is the contribution of seasoned pros to those with a newly-discovered creative spark making Reshot help its users elevate their creative projects. All photos published on Reshot are free to use, both for commercial and noncommercial purposes, but, Reshot does not permit you to redistribute any of its photos.
Are you tired of searching for authentic design resources for your blog or design works? The wait is over! Rawpixel vigorously claims to have the most diverse stock photos on the Internet. Their website hosts numerous images on various themes including business, family, monochrome, animal, art prints, women, health & fitness, etc. rawpixels has a charity project whereby money earned through the sale of premium quality pictures from their website is funded by the "hope for children" fund.
All pictures of magdeleine are free high-resolution pictures with Creative Commons Zeo (CC0) license. All the pictures here are carefully selected and added to the picture pool on their website. Like every other stock photo website, each image has been classified into categories. Also, each image is tagged based on the dominant color of each image. Users will be able to choose the pictures in line with the color theme of their project. Magdeleine's search engine also offers very quick search results. Users will find a good user experience in finding images from this website.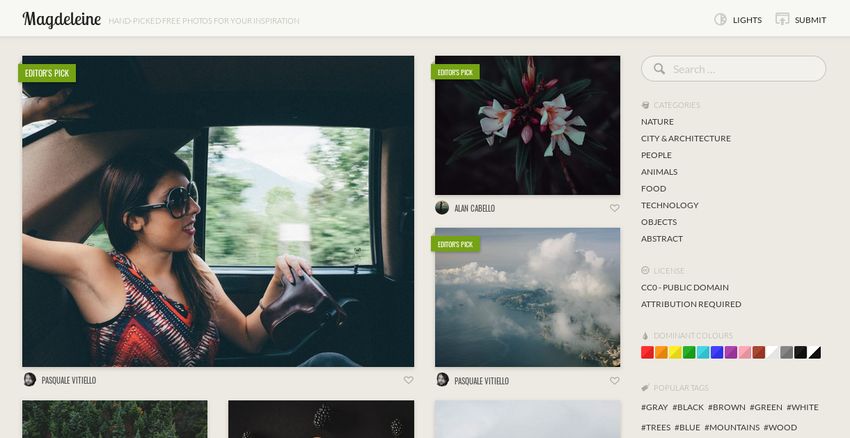 Picography is a good hub of gorgeous, stunning, high-resolution free photos and serving millions of people for the past few years. On the landing of the home page of Picography, hit any category to quickly browse through the photos to find your favorite photo, or, run a search by keyword of your desired photo, or, simply browse through the navigation links. You can take any endeavor of creativity on their photos to achieve your creative goal. Picography accepts users' photo contributions.
IM FREE has a large collection of a large variety of free web design resources, and everything is designed for Internet users to use so that they can use these resources for their own personal or commercial use. It has a slick and responsive search engine to find images.
The Life of Pix website launches by LEEROY Web Design Agency, a Montreal-based agency in Canada. All the pictures displayed on their website are free and high-resolution that anyone can use for free or professional work.
Pictures collected through the Pro-Level Photographer's Contribution are picked up on Life of Pix's sharp quality-observation policy and uploaded to their website. Any photo use does not require LEEROY's prior approval, nor does it require any photo credit.
Are you looking for high-resolution travel stock photos? Photoeverywhere offers a collection of hi-res travel stock images that are free to use and ready for instant download. No signup, no fees, no Watermarks, and no fuss! Just click and download in a minute.
All image files contain EXIF / metadata to assist in cataloging and searching. The site search facility uses Google search technology to find the images you are looking for easily. There is also a convenient visual search in the form of our world map which can be accessed at the top of every page on the site.
Whether you use it for commercial, personal, or educational purposes, you'll find your desired image in Imagebase's thousands of free photo collections. There is no need to credit the author, however, it is always appreciated when done. You can edit or modify the photos however you want. However, you cannot resell them as they are. A search engine has been added to this website to find images.
Skitterphoto was launched in 2014 by amateur photographers with day jobs from Groningen and Drenthe in The Netherlands. Skitterphoto provides hundreds of photos as public domain meaning that all photos are free to use for any purpose. You may download and edit photos and even use them commercially. You can browse them by category, or if you wish, you can search for any photo by keywords.
Proudly nurtured by Getty Images, Picspree provides royalty-free high-quality images, stock photos, illustrations, and vectors with Zero headaches of licensing issues. Small businesses and web professionals who are looking for free stock photos can bookmark this excellent multi-lingual website with peace of mind.
Free, or paid – no such classification here. All pictures by GRALLIM are free. "GRALLIM.com" has been shown the face of the Internet with the great aim of providing good-quality royalty-free images to all business professionals – bloggers, designers, writers, and business winners. In addition to realistic categories of people, animals, travel, food, and nature, the collection of pictures has been enhanced in some useful categories. Their images are 100% free, and, there is no trick. You can crop, enhance and modify their images for your free or commercial use. However, there is a point. But after downloading photos of GRALLIM, you will not be able to resell them as your own photo.
Scatter Jar is a free resource celebrating the joy and beauty of food photography. It's a place for creatives to download unlimited free food photos, in high resolution, for both personal and commercial use. ScatterJar has an extensive range of food-related copyright-free images, so please go and check them out today!
All photographs published on the Scatter Jar website are available, free of charge, for both personal and commercial use. If there is only one restriction on their picture, you cannot redistribute it by downloading the image from here.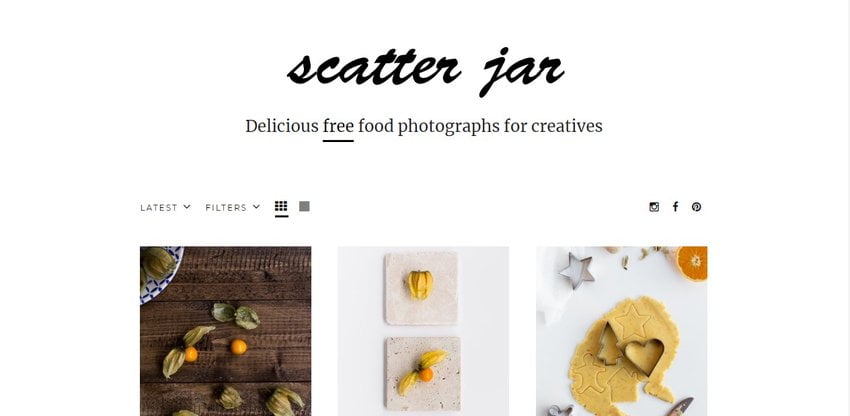 FOCA provides free CC0 photography for personal and commercial use on websites, projects, themes, apps, and more. FOCA was founded by Jeffrey Betts in 2014 with the aim to provide photo content spanning many categories, including nature, city scenes, workspaces, and macro photography. These photos can be freely downloaded, used, and redistributed for both personal and commercial purposes. Foca also provides free Facebook and Instagram posts, cover photos, and story templates.
StyleStock offers beautiful, FREE styled feminine stock photography for every woman entrepreneur. The collection is totally free for your commercial and personal works.
Kiviphoto offers Internet professionals with CC0 stunning free stock images. Images are grouped under a long list of categories and tags as well. To ease the tedious task of finding photos, Kiviphoto is equipped with a slick search engine. Kiviphoto highly appreciates users' photo contributions and donations via PayPal.
Run by Folkert Gorter, a Los Angeles-based designer, Superfamous has built a stash of this personal collection of photography protected under the Creative Commons Attribution 3.0 license. This simply means you can use anything you like so long as you provide credit to him in some way.
Seasoned photographer Daniel Nanescu decided to upload the photos he took in his ten years of career and we get this amazing website. He made them free which everyone can download and use for personal and commercial purposes. It has over 1,000+ photos lying in SplitShire server storage and more photos are adding up in the stock. Besides, stock photos, there are some short videos on the YouTube Channel awaiting to visit from you.
To provide access to free high-quality photos under creative commons CC0, MorgueFile has accumulated 350,000 free stock photos for commercial use. With minimalistic web design, if you are interested to download any photo, you can do it after going through a hassle-free sign-up process.
The BlogPiks website has been developed in London by Stuart Miles. People who are looking for free images for their blog, website, social media, or presentation, would love to bookmark this BlogPiks website, hopefully. There are countless images of 2D artwork that have been broken down into several categories for convenience. For those who want to find pictures on the website, it has a search feature added.
picxclicx is a kinda startup of Jill Levenhagen, a photography veteran to decided to make her photographs public domain and free to download. You can modify photos to use anywhere, but, you must specify the source under the photo, or you can purchase a lifetime non-attribution license for your websites for a one-time fee of $10.
All here photos specialize in "real-looking" portrait-oriented shots that are not too glossed up and fake looking. There is a pretty big list of categories of photos and for the convenience of the users, photos are easy to find.
With the slogan "Discover the Real Africa" ​​Iwaria wants to inform the world that they have come to introduce Africa as a brand. For anyone who needs a blog post, creative design, or any other source of African lifestyle, nature, food, or animal imagery, however, this website will serve as a one-stop source.
You can scroll here to see one image after another, and again, you can also select certain types of photos over large categories. Besides, the search box is there.
No registration is required to download the picture, however, you can sign up here if you wish. Iwaria wants you to mention the source of the pictures you use in your project.

Creative Commons (CC) Search is a tool that allows openly licensed and public domain works to be discovered and used by everyone. Creative Commons, the nonprofit behind CC Search, is the maker of the CC licenses, used over 1.4 billion times to help creators share knowledge and creativity online.
CC Search searches across more than 300 million images from open APIs and the Common Crawl dataset. It goes beyond simple search to aggregate results across multiple public repositories into a single catalog and facilitates reuse through features like machine-generated tags and one-click attribution.
Many high-resolution free vintage photos have been put on display on the StreetWill website that has been able to capture the attention of creative people. More than 1.2 million images have been downloaded from their website so far, informing them of their success in image quality and variety. The website's simple design and simplicity of the user interface make it easier for users to find images. Downloaded images can be used on their own, as the pictures are under CC0 license. In addition to this, there is a picture search system. Anyone here can sign up and contribute a photo.
Public Domain Pictures offers more than 270,000+ free pictures bearing CC0 Public Domain licenses, all of which are collected from the contribution of photographers around the globe. This multi-lingual website lets you download high-quality photos.
You can upload your own photos here to make money. Mid-sized photos are free to download, but, you pay as low as $1/$5 dollars for larger sizes. For searching convenience, it is equipped with a search engine.
Creativity103 currently contains more than 2500 files, 6GB of free abstract digital photos, backgrounds, and basic video clips ready for you to download and use. The downloads are designed to be used directly in your designs, as layer textures, or as inspiration and ideas for further development.
The materials contained here are free to download and use, but you must credit/link to this site if you use them in any commercial application or product. You may not redistribute these photographs as stock for reuse.
Since 2005 FreePixels.com offers free high-resolution photos that you can use for your personal and commercial projects. All images are shared in Abstract and Concept, Objects, Architecture, Nature, Food and Drinks, Travel, People, Work, etc. themes for the convenience of finding photos. There are also search options. Easy to download pictures – click and download. There is no hassle of registration and email validation.
The photos showcased at Photober are available for both commercial and private use, absolutely free of charge. The photo license here states that you may not resell or distribute the photo in any way. Photobar also insists you include photo credit in your work. If you wish to sell merchandise bearing one of their images, where your customers are likely to buy the product solely or mainly because it displays that image, you will need to purchase an "extended license".
Explore the most popular public domain stock photo site and share your best images and videos with people all over the world. I am talking about Foter. Again, there are several categories to choose from to pick your desired photo and a pretty smart search engine. Most of the photos are released under a CC0 license and resized by 800 pixels in width.
Since 2004 Stockvault.net has catered to its visitors with high-resolution free stock photos, "ready to use" web layouts, and logos, helping those who don't have the means to turn to royalty-free agencies. Photographers, designers, and students can share their photos with others for their personal non-commercial design work. It does not require any signup process.

"Foodiesfeed" is the best resource of awesome naturally looking food photos that are completely free to download. Food photographers from all around the world share their photos under the Creative Commons Zero (CC0) license to help accomplish the ultimate goal of Foodiesfeed, to make the online space related to food more beautiful stock photos that people still keep using.
ImageFree was launched in 2010 with the aim to present creative people with an alternative to expensive stock photography. A free sign-up is required to download high-resolution images, illustrations, or wallpaper which you can use freely in personal projects.
Are you in search of a historic photo for family history or local history research? Ancestry Images contains more than 40,000 images of old and antique prints, maps, and portraits, dating from the 17th century but mostly from the late 18th century and 19th century. Search and find the image you are looking for and click to see details and download.
BigFoto, a royalty-free photo agency, is known for providing you with free pictures from their massive and constantly growing photo gallery. You can use these images just as you wish for personal or commercial purposes (see Copyright for details) and there are no watermarks or complicated rules. BigFoto appreciates you for a link to it if any image you place on your website. The pages of the photos are organized by topic. You do not need to register here.
Pickupimage is a huge collection of free stock images comprising nature and outdoor-related scenes. You can copy, modify, and distribute – no restriction imposed. There is no registration required.
No subscriptions, commission plans, or shopping of any kind. FreeMediaGoo offers unique royalty-free stock photos, textures, and more, all free! Simply explore our high-quality illustrations, find a powerful photograph you like, and start downloading your colorful royalty-free graphic images! Free for both unlimited commercial and private use.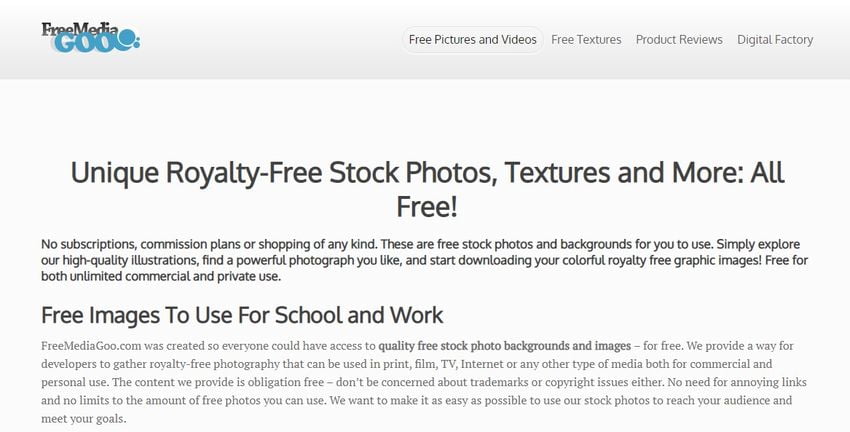 Wikimedia Commons is a collection of 570+ million freely usable media files to which anyone can contribute. Viewers are suggested to use the search box at the top of the page or the links to the right to fine-point their desired photo.
PikWizard is a library of over 1 million stock images and videos and all of them are royalty-free and safe for commercial use, with no attribution required. There are a number of categories to choose from and a search box to quickly navigate to a photo.
Image Finder was first started as a search engine to find images on Flickr licensed under Creative Commons. It now contains 235,000+ high-quality royalty-free stock images from the world's best photographers. All images belong to the original photographers. To download the original size image, you will need to download it from the original photographer's website.
Stock Free Images is the largest web collection of FREE images, with 2.2 Million images, royalty-free stock photos, and illustrations. You need to register for free to download any photos. If you're a designer, advertiser, webmaster, or blogger, check them out! You can license their images free of charge or use their premium plans for enhanced access.
TinEye is a reverse image search and recognition company. It tracks an image and finds where that image appears online. You need to upload an image, or image URL to find the whereabouts of that image.
Since its inception in 2010, Wylio is a supersonic, thrifty, all-in-one Creative Commons picture finder, re-sizer, and credit builder website.
TurboPhoto allows you to browse and download 2,000 (3.4 GB) free stock images from 10 categories. Stock images are in the public domain. For higher quality, professional stock images, use the search bar above to find Turbo Photo images.
"Freeimageslive" is a stock image collection brought into existence by the photographer community. It has an awesome collection of images to choose from, easy-to-use cut-and-paste blog and forum codes plus some useful tips and online resources. Images are free to use, commercial work included. An attribution link or text credit is required.
Web developers need images of different sizes to create websites. For them, any dimension image is created with the placeholder image creation service, this lorempixel website. It's easy to use and absolutely free! Just put the custom URL in your code like this: to get your FPO/dummy image. Placeholder images can be created for any dimension, but do not exceed 1920 pixels wide. In addition to dimensions, pictures of abstract, animals, businesses, cats, cities, food, nightlife, fashion, people, nature, sport, technics, and transport can be selected.
Moose is an incredible collection of realistic royalty-free photo download websites. On this website, you can search for images by specifying various criteria and categories of images, or search engine help. It asks for a link to its website for the content in your project if you plan to use it for free. If not, consider buying a license at a monthly or yearly fee.
Any pictures, free and premium, are available on these two types of licenses on the Fancycrave website. Dimensions of free images are usually 800 x 534 pixels, while premium quality images are available at full resolution and full size. Any picture can be secured-purchased with a credit card. Like other image download websites, the images are categorized into different categories and the search engine is there to find images.
All the free images are released under Creative commons. No attribution is required though encouraged.
Free Refe contains a collection of amazing and realistic images. As their website states, "using great imagery helps portray emotions, increase sales, and conversions," the free photos here are a must-bookmark resource.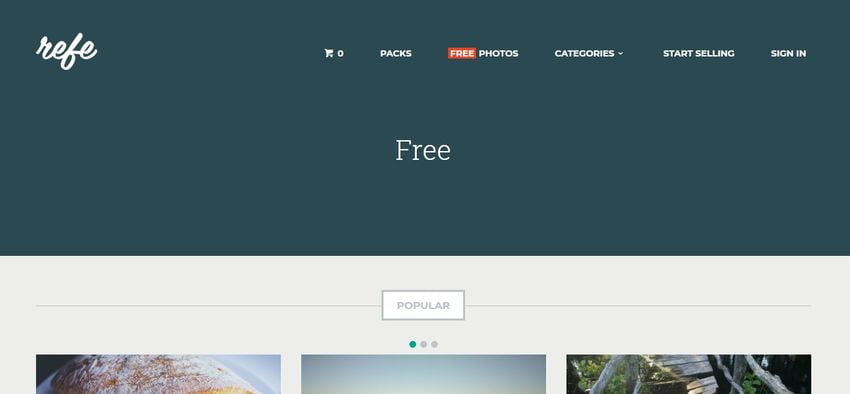 Canva is used and loved by millions of people around the globe. With Canva, you can design anything and publish it anywhere. Use Canva's drag-and-drop feature and professional layouts to design consistently stunning graphics. A sign-up is required.
New Old Stock offers vintage photos from the public archive. The photos are free of known copyright restrictions.
Jopwell is a POC recruiting website and has recently updated its free stock photo repository with an intern edition. Perfect for your LinkedIn or Medium articles.
CreateHER Stock offers authentic royalty-free stock photography that featured women of color. CreateHER Stock was launched in July 2015. It contains resources and a digital "pantry" for stock imagery that can be used for lifestyle, business, and everyday content creation for bloggers. There are premium images that you may consider buying on a flexible pricing plan.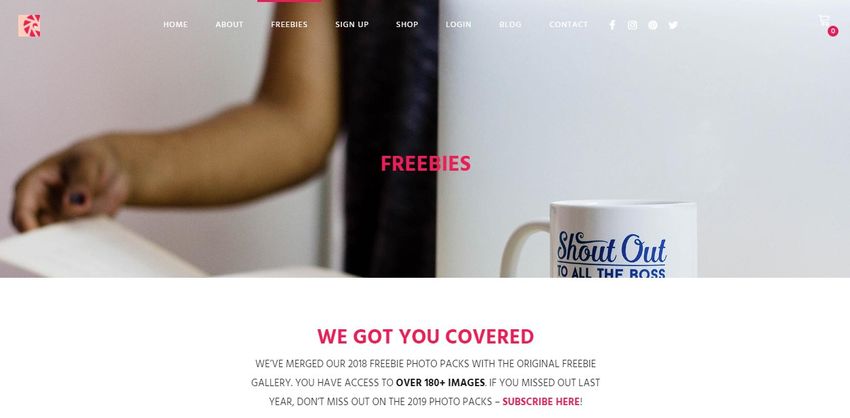 Depositphotos is a commercial platform that brings authors of high-quality licensed stock photos, graphics, vectors, and videos together with appreciative buyers.
It also offers great free photos, vectors, and videos. You can download these resources for commercial and editorial use. A free registration is required to download free photos.
BucketListly Blog is a house of free creative commons (Attribution-NonCommercial) collection of over 10,000+ travel photos from all over the world anyone can use. All photos were taken by the site owner. If you are looking for higher-definition versions of these photos, contact me.
Remind you to check the image license beforehand. As image authorization could change from free to reserved occasionally. Those who use free photos regularly and who have legal obligations with licenses should subscribe to the websites they use most. If any changes are made to the license agreement of all websites, users may be alerted about the change in advance from the email sent by the photo providers.
The list is growing…
Those of us who are working as bloggers, creative designers, theme developers, or creating presentations, know how difficult and tiresome it is to find useful and free graphics for our projects when required.
However, the good news is we can find lots of websites that generously provide free stock images, illustrations, and videos of great quality these days.
With the help of search engines, it is not that difficult to find those.
We may need various types of images in our everyday work. Hopefully, this article would work like a ready-made reference list in your hand for convenience.
Sites that have been shown first, got listed first. Do not let this listing procedure be reckoned as a ranking chart.
If there are any other free image sites outside the list, I request the readers to give us their names in the form of comments below, on the Facebook pages. We'll include them in the list of names.